Home Page

>
Cooking 101
> How to Make Homemade Ice Tea
How To Cook Asparagus
This is another segment in Make Dinner Easy's Cooking 101. 

Trying to figure out how to cook asparagus? Here you will find information on buying, storing, and preparing this vegetable along with easy recipes using asparagus.
Buying
The first thing I do when buying asparagus is to smell the tips. I'm looking for a fresh scent, and not a sour order that can be the result of sitting too long in old water. If the asparagus doesn't smell right, I just look for another vegetable to serve with dinner!
In addition, look for firm stalks with tightly closed heads. It is a matter of personal preference whether you buy thin or thick spears. I personally prefer thinner spears as they don't need to be peeled and have less of a tough woody end.
Storing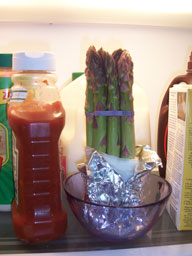 Asparagus will stay fresh if you treat the stalks like a bunch of flowers. I recommend cutting off about 1/4 inch off of the base, wrapping the base first in a damp paper towel, then wrap a small piece of aluminum foil around the paper towel. Then set the asparagus upright in the fridge in a small vase or tall bowl. To ensure freshness, you can even drape a small plastic bag over the tips. Every few days, add a few drops of water to the base. I have kept asparagus fresh in the fridge for up to a week using this method, while asparagus kept laying down in a plastic bag can get soft and smelly in just a few days.
Preparing
No matter how thick the stems, some of the base of each stalk should be removed. An easy method to determine how much to cut off is to use the snap test. This is done by holding the stalk end between two fingers of one hand, and the tip end between two fingers of the other hand. Bend the ends together and see where the stalk breaks; it usually breaks 1-2" above the woody end. This is about where you should cut or break the rest of the asparagus that you are cooking.
Thinner stalks don't need to be peeled.
Thicker stalks can be peeled if desired. If you want to peel the stalks, use a vegetable peeler and peel the bottom half of the asparagus so that is about the same diameter as the tip.
How To Cook Asparagus
Personally I recommend roasting,, grilling, or sauteing asparagus and serving it on the crisp side. Here are some general guidelines for different methods of cooking this vegetable. The cooking times do vary depending on the thickness of the spears and how crunchy you like the final product:

Steaming - use an steamer basket with about 1/2 - 3/4 cup of water. Bring water to a boil, add asparagus to the basket, cover and cook for 4-8 minutes
Broiling - place asparagus in a single layer in an oiled pan for 5-8 minutes
Roasting - place asparagus in a single layer in an oiled pan and roast at 400'F for about 10 minutes
Grilling - place asparagus that has been lightly tossed with oil, in a perpendicular fashion, on the grill (so they don't fall through!) for about 5 minutes, turning occasionally.
Sautéing and Sir Frying - Cook over high heat with a small amount of butter or olive oil for 6-10 minutes
Recipes Using Asparagus
Oven Roasted Asparagus 
Fettuccini with Roasted Asparagus and Goat Cheese 
Click on any of the images below to see what I've pinned to Pinterest recently!.  If you like to see the recipes and cooking tips that I discover and pin, I'd love to have you follow me on Pinterest!

Visit Crystal@makedinnereasy's profile on Pinterest.
Thanks for stopping by! 
If you enjoy cooking or are looking for new recipes to try,
these are ways to see more yummy ideas: 
I also share all kinds of cooking tips and recipes on
Facebook . Twitter . Pinterest . and Instagram .
I'd love to have you follow along!

Each page on this site has a comment box, so if you want to share how a recipe turned out or something you added to make it even better, feel free to comment below!