Home Page

>
Pasta Recipes
> Cooking For A Team
Cooking For A Team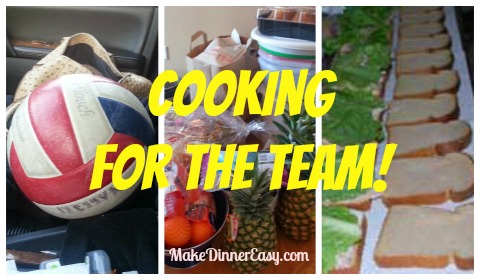 I have four kids involved in sports. In addition to feeding my own kids, I always seem to be cooking for a team. I started cooking for travel teams when I started seeing how difficult and expensive it is to feed a team in a restaurant. In addition, having fast food doesn't help the team perform well. If you travel with a team that competes at locations far from home there are meal options besides going to a restaurant or ordering in. 
Cooking For A Travel Trip
My daughter and son play on  volleyball teams that make a number of overnight trips. If I'm chaperoning, I have found it's less expensive and more nutritious to bring home-cooked food rather than ordering in or taking the team to a restaurant. I've often teased her teammates that I'm going to write a book titled "How to Feed 25 people out of a Hotel Room" instead, I'll just list a few ideas here.
---
Getting Organized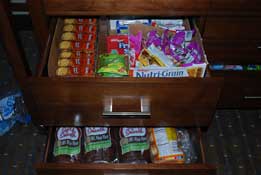 If I'm driving to a tournament and have room in the car, I try to do as much shopping and prepping ahead of time.  I often take coolers filled with fruit, cheese, and pre-cooked and frozen spaghetti sauce. 

If the hotel room you are staying in will also double at the team dining room it helps to be creative with storage. Stashing team snacks in dresser drawers can keep them out of the way. Depending on the hotel room set up you can even arrange drawers by meals having breakfast items in the top drawer and lunch items in the middle drawer for example, which makes clean up much faster.
Breakfast and Lunch To Go
Smoothies are a quick and nutritious option for breakfast or a snack. I usually bring several coolers filled with food including the ingredients for smoothies. Purchasing large family style containers of yogurt is great if you are serving a crowd. I usually don't measure, but this recipe works well:

Fruit Smoothie Recipe : 3 cups frozen strawberries (one 10-ounce bag, 2 bananas, 1.5 cups strawberry yogurt, 1 cup grape or apple juice, 3/4 cup milk. Place all ingredients in a blender, blend and serve

To clean the blender, fill 1/4 of the way with water and a drop of dish soap. Cover, turn on high and let the blender clean itself!
---
Fruit and yogurt parfaits are a great breakfast option. These can even be prepped in disposable coffee cups with lids if your team needs to eat on the run. To make 10-12 parfaits I usually buy 3-4 large containers of vanilla yogurt, fresh strawberries, and granola and layer these ingredients in the cups. Topping them with a few strawberries and some granola makes it pretty too.
Instead of having your team buy a lunch, packing a lunch is always a great option. I learned a trick from a fellow chaperone who had the girls on her team fill out a "sandwich order form" each night. The chaperones used that as a guide and had the girl's sandwiches made when they came in the team room to pack their lunches. It does make the mornings go smoother and creates less mess! We usually poll the girls prior to the trip to find out what their preferences are. Turkey and Cheese and PB&J always seem to be favorites.
Serving Dinner In A Hotel Room
Feeding dinner to a team can be harder than you think! You never know when you will be done playing for the day so dinner reservations can be challenging to make. It is also not easy to secure a table in a restaurant for ten players, several chaperones, and assorted parents when there are so many other teams trying to do the same. I have found that the players are usually quite happy to go back to their hotel room, take a shower, and eat together in the team room. I have a few dinner options that I have prepared often that are really quick to make. It's also easy enough to have extras if any parents or coaches want to stop by for a bite.
---
Many athletes like to eat carbs, namely pasta, the night before competing. I have found an easy way to serve pre-cooked pasta out of a hotel room. For most out of state tournaments I cook 7-9 pounds of pasta at home prior to traveling. After each batch is cooked, I rinse the noodles with cold water, drain well, and toss with 1-2 Tablespoons of lite tasting olive oil. The oil helps to prevent the pasta from sticking together. This pre-cooked pasta can be stored in gallon or jumbo sized zip-style plastic bags and transported in the car in a cooler. Prior to serving at the hotel, pour the noodles in a colander that you bring from home and run hot water over the noodles (in a sink or even the shower). This will heat the noodles sufficiently to serve. I usually pour the noodles in a disposable tin pan and serve the pasta from there. You can use pasta to serve with a sauce, to make up a pasta salad, or even to serve just with sprinkled Parmesan cheese. Pasta can often be found for under a dollar a pound so this is a very easy and economical way to feed a team.
---
This Fettuccine Alfredo only took about ten minutes to heat up. To make this for a team, freeze small pieces of a 4-5 pound pre-cooked rotisserie chicken meat in a plastic zip-style bag at home prior to the trip. Also, pre-cook 2 pounds of fettuccine noodles as outlined above. To prepare in a hotel room, pour 2 large jars of Newman's Own Fettuccine Alfredo sauce (the taste test winner in my house) in a large electric skillet, add the chicken pieces and stir until heated. Add the noodles and serve with broccoli florets.
Additional Strategies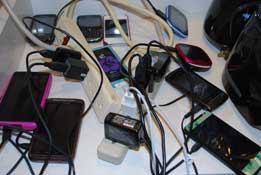 I'm sure 10 years ago, teams didn't have to worry about charging cell phones, but having a few power strips to make sure the team can charge cell phones easily will help you win major popularity points!

Some of the strategies listed above may not be practical or feasible depending on the type of hotel you are staying in. It's always advisable to check if there will be an area in your hotel room that is safe to plug in an appliance or keep a slow cooker plugged in.
To avoid messes, ask the housekeeping staff for some extra flat sheets to drape over bedding or furniture where people are eating.
Some hotels have small refrigerators for rent or microwaves in the rooms. Confirm with the hotel what they have prior to your arrival. Small hotel refrigerators are nice to have but you can actually only fit a small amount of food in them. I prefer to bring large coolers and change out the ice in them each night. For food safety, it would be wise to bring a refrigerator/freezer thermometer to assure that food being stored is cold enough.
I'd love to hear your comments, suggestions, or ways you cook for your team on the road. Please enter your ideas in the comment section below!
Click on any of the images below to see what I've pinned to Pinterest recently!.  If you like to see the recipes and cooking tips that I discover and pin, I'd love to have you follow me on Pinterest!

Visit Crystal@makedinnereasy's profile on Pinterest.
Thanks for stopping by! 
If you enjoy cooking or are looking for new recipes to try,
these are ways to see more yummy ideas: 
I also share all kinds of cooking tips and recipes on
Facebook . Twitter . Pinterest . and Instagram .
I'd love to have you follow along!

Each page on this site has a comment box, so if you want to share how a recipe turned out or something you added to make it even better, feel free to comment below!