Home Page

>
Cooking 101
> How to Make Homemade Ice Tea
How to Make Homemade Ice Tea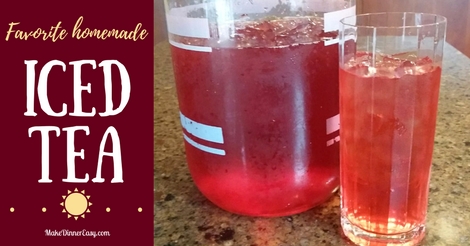 I'll admit, I'm sort of an ice tea snob. If I'm at a restaurant I want it freshly brewed and none of that powdered stuff.
A few years ago, I became infatuated with the ice tea that was served at a local restaurant and I was determined to figure out how to replicate it at home. I finally figured out that the key to making it was using Tazo brand Passion Ice Tea Bags with stevia. You can certainly use sugar but I'm a stevia fan and like cutting out the sugar intake for my family.  A touch of stevia really brings out the flavor of this tea.
Ingredients:
6 Tazo Passion Ice Tea Bags
6 cups of boiling hot water
6 cups of ice cubes
1/4 teaspoon powdered Stevia, or to taste

Directions:
Place the tea bags in a heat-resistant container. I usually use am 8 cup Pyrex Measuring cup. You just have to be careful as you will be pouring hot water into whatever container you use.
Pour the hot water over the tea bags and allow them to steep for about 5 minutes.
I usually make this in advance and allow it to cool on the counter before adding ice, otherwise the ice will greatly dilute the hot tea.
Once cooled, mix in stevia and add ice.
Yield:  About 8-10 servings

Suggestions
This is my absolute favorite ice tea recipe. I've made it for countless parties and it's a staple on my counter in the summer time. If I'm making it for a large crowd, I usually make up a triple or quadruple batch the day before, refrigerate, and then pour it into a serving pitcher with ice when ready to serve.
When I first started making this for parties, I used to have this on the counter for the adults who wanted a non-alcholic drink and had pop or water for the kids. What I found is that the kids flocked to this just as much as the adults! If you try it, I'd love to hear what you think in the comments below!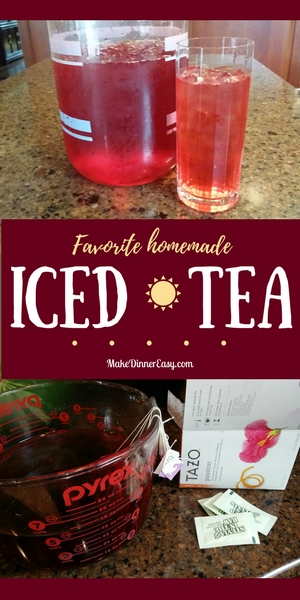 Click on any of the images below to see what I've pinned to Pinterest recently!.  If you like to see the recipes and cooking tips that I discover and pin, I'd love to have you follow me on Pinterest!

Visit Crystal@makedinnereasy's profile on Pinterest.
Thanks for stopping by! 
If you enjoy cooking or are looking for new recipes to try,
these are ways to see more yummy ideas: 
I also share all kinds of cooking tips and recipes on
Facebook . Twitter . Pinterest . and Instagram .
I'd love to have you follow along!

Each page on this site has a comment box, so if you want to share how a recipe turned out or something you added to make it even better, feel free to comment below!