Home Page

>
Dessert Recipes
> Chocolate Fruit Dip
Chocolate Fruit Dip
I received this recipe  from my friend Dana.  She served it at a party at her house and just just couldn't stop eating it, it was irresistible! What I love about this recipe is that it can be made in advance, requires only a few ingredients, and doesn't harden up completely as it gets colder.  I often serve this along with a platter of cubed fruit such as strawberries and pineapple.  Add some long toothpicks, and even some cubed pound cake and you're in business.  You may want to have a small ladle nearby in case someone wants to drizzle the chocolate over the fruit on a plate.  Either way, it's complete yum!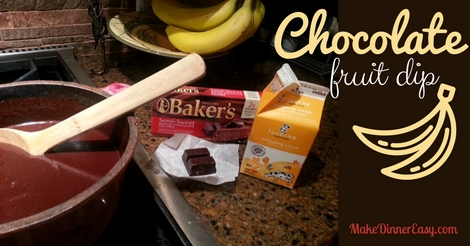 Chocolate Fruit Dip Recipe

Ingredients:
2/3 cup light corn syrup
½ cup heavy cream or whipping cream
1 (8ounce) package Semi Sweet Chocolate for baking (I typically use Bakers or Ghirardelli
Directions:
1. In a saucepan, mix corn syrup and cream. Bring to a boil. Remove from heat.
2. Break chocolate up into pieces and add to hot syrup mixture. Stir until melted
3. Serve warm as a dip for fruit
Pin it for later!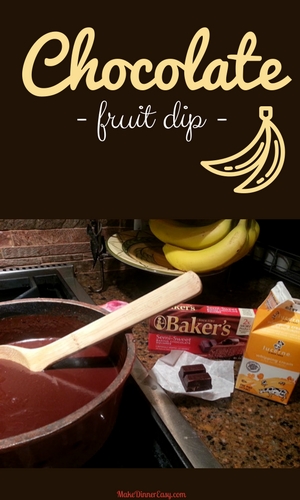 If I'm serving this for a party, I make the recipe ahead of time and put the dip in a microwave safe bowl. Then just heat it in the microwave prior to serving. Ifit is going to sit out for awhile, I just pop it into the microwave every so often to keep it warm. This is a great dessert to serve at a party with a bowl full of strawberries or fruit kabobs. 
I have also made this for my kids travel sports teams.  I make it at home, transport it in a cooler and heat it up in the hotel room either in a microwave if it's available or a hot water bath that I set up in an electric skillet.  This year I splurged and bought a mini slow cooker to heat it up in the hotel room.  It's a nice treat to serve to the team with fresh fruit after a long day of competing!
Click on any of the images below to see what I've pinned to Pinterest recently!.  If you like to see the recipes and cooking tips that I discover and pin, I'd love to have you follow me on Pinterest!

Visit Crystal@makedinnereasy's profile on Pinterest.
Thanks for stopping by! 
If you enjoy cooking or are looking for new recipes to try,
these are ways to see more yummy ideas: 
I also share all kinds of cooking tips and recipes on
Facebook . Twitter . Pinterest . and Instagram .
I'd love to have you follow along!

Each page on this site has a comment box, so if you want to share how a recipe turned out or something you added to make it even better, feel free to comment below!