Home Page

›
Easy Dessert Recipes
› Blueberry Coffee Cake Recipe
Blueberry Coffee Cake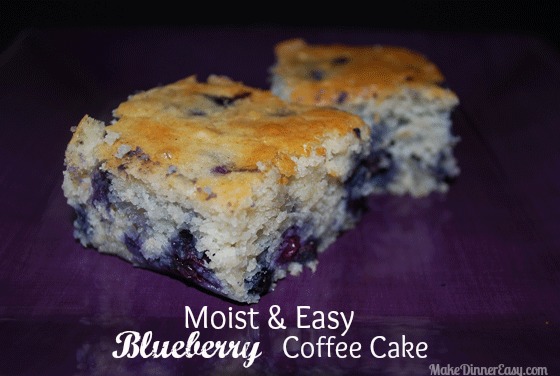 Moist and Easy.  Isn't that how a blueberry coffee cake recipe should turn out?  You'll get just that with this recipe that calls for ingredients you can easily keep in the house.
A lot of coffee cake recipes call for buttermilk which isn't an ingredient that many people routinly keep in their fridge.  Although buttermilk can be easily substituted I prefer to just call a spade a spade and use milk and lemon juice for this coffee cake.  When it comes to the berries, I actually prefer to use frozen blueberries instead of fresh, although either will work fine.  First of all it's easy to keep a bag of frozen berries in the freezer but also the frozen berries keep more intact when they are stirred in.  Feel free to weigh in by commenting below if you find that fresh or frozen works better for you.

Hope you enjoy!

Blueberry Coffee Cake Recipe

Wet Ingredients
4 Tablespoons butter, melted (unsalted butter is preferred)
1/2 cup unsweetened apple sauce (you can use a 4 ounce "lunch size" container)
2 eggs, beaten
1 cup of milk (I use skim)
1 teaspoon fresh lemon juice
1 teaspoon lemon zest
1 teaspoon vanilla extract
Dry Ingredients
2 cups flour
3/4 cup granulated sugar
1 Tablespoon baking powder
1/4 teaspoon salt
2 cups fresh or frozen blueberries (frozen is preferred)
Directions
Preheat the oven to 375'F and grease a 9x13 baking pan.
In a large bowl combine all of the wet ingredients. Set aside.  Combine all of the dry ingredients in a separate bowl and then add the dry ingredients to the wet ingredients and stir well.   Add the blueberries and stir until just combined.  The more you stir the more the batter will turn "blue" from the berries, so don't over mix.  This is also why frozen berries are preferred.  Pour the batter into the 9x13 baking pan.

Bake at 375'F for 30-38 minutes or until top is slightly golden brown and a toothpick inserted into the cake comes out clean.
Serves 8-10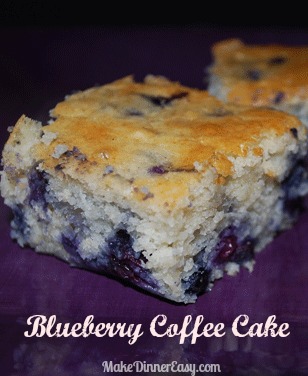 Click on any of the images below to see what I've pinned to Pinterest recently!.  If you like to see the recipes and cooking tips that I discover and pin, I'd love to have you follow me on Pinterest!

Visit Crystal@makedinnereasy's profile on Pinterest.
Thanks for stopping by! 
If you enjoy cooking or are looking for new recipes to try,
these are ways to see more yummy ideas: 
I also share all kinds of cooking tips and recipes on
Facebook . Twitter . Pinterest . and Instagram .
I'd love to have you follow along!

Each page on this site has a comment box, so if you want to share how a recipe turned out or something you added to make it even better, feel free to comment below!