Pumpkin Cake Squares

These pumpkin cake squares are one of my go-to Fall dessert recipes. They're super moist and you can make the recipe in one bowl for easy clean-up! I've made these for an after-school snack, for a treat to eat while watching a football game on TV and have even taken it to a Bible Study Breakfast Buffet because what's wrong with eating pumpkin for breakfast!  I don't put frosting on these when I make them, but instead top them with a little whipped cream or ice cream.

Wet Ingredients:
4 eggs
1 cup light tasting olive oil or canola oil * see cook's notes*

2 cups granulated sugar
1 (15 ounce) can of pumpkin puree

Dry Ingredients
2 cups of flour
1/2 teaspoon salt
1 teaspoon baking powder
1 teaspoon baking soda
2 teaspoons cinnamon
Directions:
Preheat the oven to 350'F. Combine the wet ingredients with an electric mixer. Combine the dry ingredients in a separate bowl and add to the wet ingredients, mixing well.  Pour batter in a greased 9x13x2" glass baking pan and bake at 350'F for 30 minutes or until a toothpick comes out clean.  Allow to cool and cut into squares. Serve plain or with whipped cream.
*Cook's Notes* I've also used 1 cup of light tasting olive oil instead of canola oil and have also used 1/2 oil and 1/2 unsweetened applesauce and all of these options work great!  If you are going to use olive oil, I highly recommend that you use a light tasting olive oil.  If you look on the store shelves you will see some bottles that are labeled light tasting and I find this kind of olive oil works just fine for baking!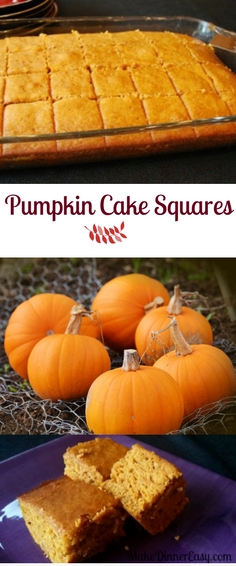 Click on any of the images below to see what I've pinned to Pinterest recently!.  If you like to see the recipes and cooking tips that I discover and pin, I'd love to have you follow me on Pinterest!

Visit Crystal@makedinnereasy's profile on Pinterest.
Thanks for stopping by! 
If you enjoy cooking or are looking for new recipes to try,
these are ways to see more yummy ideas: 
I also share all kinds of cooking tips and recipes on
Facebook . Twitter . Pinterest . and Instagram .
I'd love to have you follow along!

Each page on this site has a comment box, so if you want to share how a recipe turned out or something you added to make it even better, feel free to comment below!