Key Lime Pie Recipe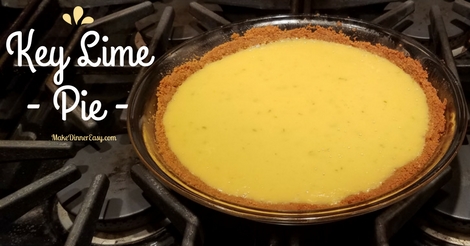 Some people like sweet, some like tart.  This recipe gives you a little of both.  Best of all you can make it and bake it within 30 minutes with a few time saving tricks.  Special thanks to my friend Lisa C. for this recipe.  She brought to our house for a dinner party and I had a hard time leaving it alone!
Crust Ingredients:
1/3 cup melted unsalted butter

1 1/4 cups crushed graham cracker crumbs
1 Tablespoon granulated sugar
Pie Filling Ingredients:
3 egg yolks
grated zest of 2 limes (1.5 teaspoons)
1 (14 ounce) can sweetened condenced milk
2/3 cup lime juice (you can squeeze your own or I often use a bottled key lime juice such as Nellie & Joes)
Instructions:
Preheat the oven to 350'F.  Place 1/3 cup of unsalted butter in a medium microwave safe bowl.  Microwave for 45 seconds to melt the butter.  Add the crust ingredients and stir with a spoon until all the graham cracker crumbs have been moistened with the butter.  Butter or grease a 9" pie plate and then pour the crumb mixture in the pie plate.  Use your fingers to evenly press the mixture onto the sides and bottom of the pie plate.  Bake the crust for 8 minutes at 350'F. 
Tip:  After you have finished pressing the crumbs into the pie plate, take a table knife and cut a clean line around the top of the crust.  This will help you even out any uneven edges and will make your crust more attractive.  Press any of these loose crumbs into the crust. 
While the crust is baking. Place the egg yolks in a medium bowl or bowl of a stand mixer and use a beater to beat the yolks.  Add the rest of the filling ingredients. 
When the crust is done baking, remove it from the oven and pour the filling mixture into the crust.  Return the pie to the oven and bake for 10-12 minutes at 350'F or until set.
Click on any of the images below to see what I've pinned to Pinterest recently!.  If you like to see the recipes and cooking tips that I discover and pin, I'd love to have you follow me on Pinterest!

Visit Crystal@makedinnereasy's profile on Pinterest.
Thanks for stopping by! 
If you enjoy cooking or are looking for new recipes to try,
these are ways to see more yummy ideas: 
I also share all kinds of cooking tips and recipes on
Facebook . Twitter . Pinterest . and Instagram .
I'd love to have you follow along!

Each page on this site has a comment box, so if you want to share how a recipe turned out or something you added to make it even better, feel free to comment below!