Crowd Pleasing Brownies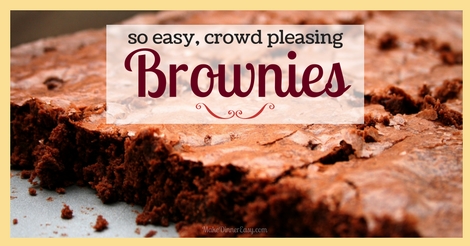 Preparation Time: 15 minutes. Baking Time: 25-30 minutes
4 sticks (1 pound) of butter (I use 2 sticks salted and 2 sticks unsalted)
4 cups sugar
4 eggs
2 cups flour
1 1/3 cups unsweetened cocoa powder (comes in a can in the baking aisle)
1 teaspoon salt
1 Tablespoon vanilla extract
2 cups chopped walnuts (optional)

Preheat the oven to 350'F. Grease and flour a 12"x17"x1" jelly roll pan (a cookie sheet with sides on it). Melt the butter and add the melted butter to the sugar in a large mixing bowl or stand mixer and mix well. Add the eggs and the vanilla, and continue to mix. In a separate bowl, combine the flour, cocoa powder, and salt. Add the flour mixture to the butter mixture and stir until just combined (don't over mix). The batter will be very thick and I do find that a stand mixer or electric mixer helps to combine these ingredients. Using a spoon, fold in the walnuts.
Transfer the batter into the pan. Because the mixture is so thick, I find that it works best to place the batter in the prepared pan by spooning 8-12 heaping spoonfuls in different places in the pan and then using the back of a spoon to "connect" the piles of batter. Anyway you do it, just make sure the batter is distributed evenly in the pan.
Bake at 350'F for 25-30 minutes. Remove from the oven and cool. You may find it easier to cut these if you allow them to cool about 10 minutes and then run a table knife between the edge of the brownies and the pan. Then allow to fully cool before cutting into squares.
Makes about 50 2" brownies.
Click on any of the images below to see what I've pinned to Pinterest recently!.  If you like to see the recipes and cooking tips that I discover and pin, I'd love to have you follow me on Pinterest!

Visit Crystal@makedinnereasy's profile on Pinterest.
Thanks for stopping by! 
If you enjoy cooking or are looking for new recipes to try,
these are ways to see more yummy ideas: 
I also share all kinds of cooking tips and recipes on
Facebook . Twitter . Pinterest . and Instagram .
I'd love to have you follow along!

Each page on this site has a comment box, so if you want to share how a recipe turned out or something you added to make it even better, feel free to comment below!