Blueberry Crisp Recipe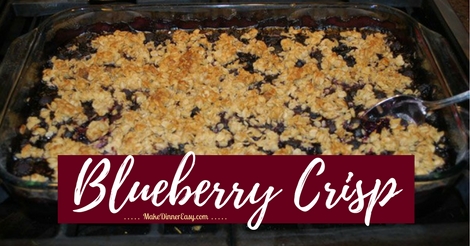 6 cups fresh or frozen blueberries
1/2 cup granulated sugar
3 Tablespoons flour
Topping
1/2 cup brown sugar
3/4 cup flour
1 cup old fashioned oatmeal (you can also use quick oats)
1/2 teaspoon cinnamon
1/2 cup butter (1 stick), softened

Place blueberries in a large mixing bowl. Combine sugar and the 3 Tablespoons of flour and pour over blueberries. Mix so that the blueberries are coated with the sugar mixture. Pour the blueberries into an ungreased 9"x13" glass baking pan.
In a separate bowl combine all of the topping ingredients. I usually use one hand to mix all the ingredients together. Use your hand to crumble this mixture evenly over the blueberries.
Bake in an oven preheated to 350°F for 45 minutes.
Let cool for at least 30 minutes and serve with ice cream.
Cook's notes: This is a very flexible recipe. I often make a triple berry crisp with blueberries, raspberries, and blackberries. This recipe is also very forgiving. I often fill up a baking dish 1/2 to 3/4 of the way with berries and then mix with a proportionate amount of flour and sugar, and make the topping as indicated above. I would recommend using any type of berries except for strawberries. If you are in a hurry, the butter can be softened by placing it in the microwave for 25-30 seconds (don't melt it!)
This Blueberry Crisp Recipe is a dessert I make all the time. It is one of my absolute favorite easy to make dessert recipes.  It calls for common ingredients and you can even use frozen blueberries so it's easy to keep all the ingredients in the house for this quick and easy dessert. I recommend eating it warm with vanilla ice cream.

Click on any of the images below to see what I've pinned to Pinterest recently!.  If you like to see the recipes and cooking tips that I discover and pin, I'd love to have you follow me on Pinterest!

Visit Crystal@makedinnereasy's profile on Pinterest.
Thanks for stopping by! 
If you enjoy cooking or are looking for new recipes to try,
these are ways to see more yummy ideas: 
I also share all kinds of cooking tips and recipes on
Facebook . Twitter . Pinterest . and Instagram .
I'd love to have you follow along!

Each page on this site has a comment box, so if you want to share how a recipe turned out or something you added to make it even better, feel free to comment below!