Home Page

>
Dessert Recipes
> Never Fail Brownies
Never Fail Brownies

Until I started making this recipe for never fail brownies, I never felt like I could make a decent pan of brownies. Maybe it was my own personnel cooking block, but my brownies were often too dry or too wet. This is actually a recipe that I adapted from a brownie recipe given to me years ago. I hope these work as well for you as they do for me. The cocoa referred to in this recipe is the unsweetened, powdered variety that comes in an 8 ounce can that can be found in the baking aisle at the grocery store.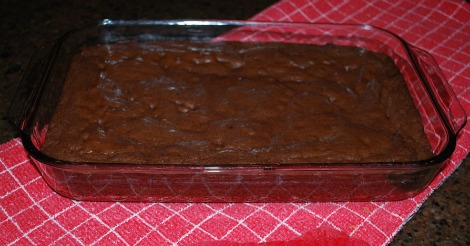 Never Fail Brownie Recipe

3/4 cup baking cocoa
1/2 teaspoon baking soda
2/3 cup unsalted butter
1/2 cup boiling water
2 cups sugar
2 eggs, beaten
1 teaspoon vanilla
1 1/3 cups flour
1/4 teaspoon salt
1 cup semisweet chocolate chips
1 cup chopped walnuts (optional)

Frosting:
6 Tablespoons unsalted butter, softened
1/2 cup baking cocoa
2 2/3 cups confectioners' sugar
1/3 cup evaporated milk
1 teaspoon vanilla

1. In a mixing bowl or bowl of an electric mixer, combine cocoa and baking soda. Add 1/2 of the melted butter and boiling water, stirring well.
2. Add sugar, eggs, vanilla and the rest of the butter. Stir after the addition of each of these ingredients.
3. Add the flour and the salt, mixing well.
4. Add the chocolate chips and the nuts. If using a stand mixer, stir these two items in by hand.
5. Pour batter into a greased 13"x9"x2" baking pan.
6. Bake at 350°F oven for 40 minutes or until a toothpick inserted into the brownies comes out fairly clean.
7. Cool
8. Can be frosted if desired after the brownies have cooled.
9. To make the frosting: cream the butter in a medium sized bowl with a mixer. In a separate bowl, combine the cocoa and the sugar. Add a little of the cocoa mixture to the butter, mixing well. Then add a little milk to the butter mixture, stirring well. Keep adding the cocoa mixture and the milk to the butter mixture in an alternating fashion until all ingredients are smoothly combined. Spread frosting over brownies.

Makes approximately 3 dozen brownies. I have doubled this recipe successfully. 
Pin it to make on another day!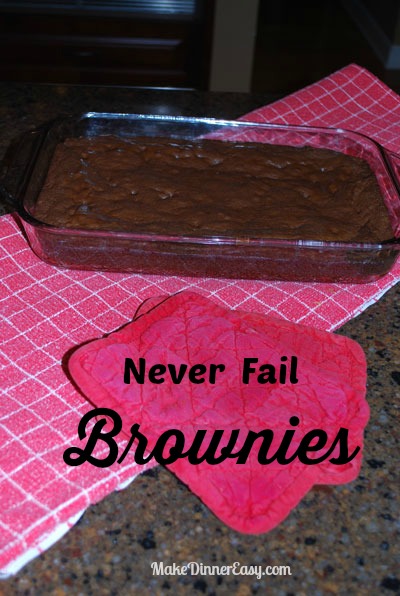 Click on any of the images below to see what I've pinned to Pinterest recently!.  If you like to see the recipes and cooking tips that I discover and pin, I'd love to have you follow me on Pinterest!

Visit Crystal@makedinnereasy's profile on Pinterest.
Thanks for stopping by! 
If you enjoy cooking or are looking for new recipes to try,
these are ways to see more yummy ideas: 
I also share all kinds of cooking tips and recipes on
Facebook . Twitter . Pinterest . and Instagram .
I'd love to have you follow along!

Each page on this site has a comment box, so if you want to share how a recipe turned out or something you added to make it even better, feel free to comment below!