Chicken Recipes
You are not alone if you love simple chicken recipes, especially if they are delicious, healthy, and easy to prepare.
Recipe Categories
Chicken Recipes
Beef Recipes
Turkey Recipes
These recipes are a terrific option for dinner if you are looking for economy, and something easy to cook. Most of the dishes listed are also great if you are looking for kid friendly dinner recipes.

In general, meat cooked with the bone, and darker portions such as thighs will be more moist. I also highly recommend using a meat thermometer to assure that your poultry is cooked enough, but not too much. The USDA recommends an internal cooking temperature of 165°F.
I've organized these recipes in two ways.  Below, the recipes are listed according to how you cook them.  So, if you know you want to cook something in the slow cooker then you can find all of those recipes listed together.
You can also find recipes by the type of chicken you have on hand.  While most recipes could be made with thighs or breasts, some recipes just work better with certain parts of the bird.
Baked Chicken Roma
Prep time: 30 minutes
Baking time: 30 minutes
Serves: 4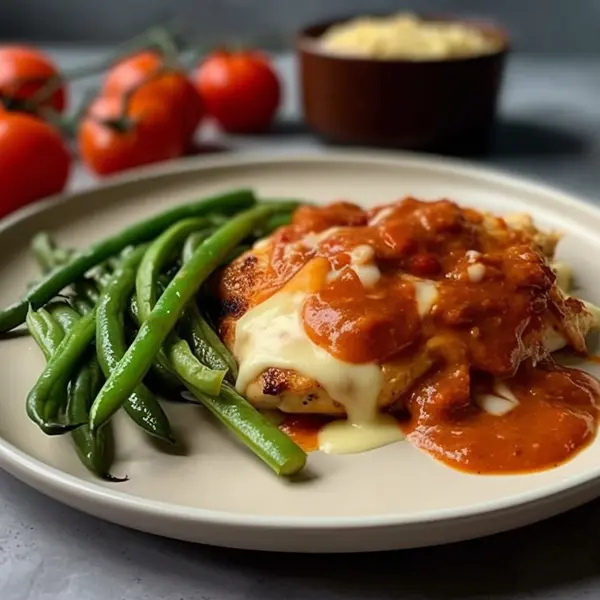 Ingredients
4-6 boneless, skinless chicken breasts or thighs
¼ cup flour
2 Tablespoon dried oregano or basil, divided
½ teaspoon salt
1 teaspoon paprika
2 Tablespoons, olive oil
1 medium onion, diced
1 (15 ounce) can diced tomatoes
6 ounces, softened cream cheese
1/3 cup skim milk

Directions
Combine flour, 1 Tablespoon of dried oregano, salt and paprika in a shallow dish. 
Heat olive oil in a large skillet. Dredge each piece of chicken in flour mixture and place in heated skillet. 
Brown both sides of chicken and transfer chicken to a 9x13x2" glass baking dish.
In the same skillet, sauté the onions, add the un-drained tomatoes and 1 Tablespoon of dried oregano. Simmer for 5-10 minutes. 
Meanwhile, in a small bowl, combine cream cheese, milk and butter. Spread the cream cheese mixture over each piece of chicken. 
Pour the tomato mixture over the cream cheese coated chicken and sprinkle Parmesan cheese on top. 
Bake uncovered at 350° for at least 30 minutes or until chicken is thoroughly cooked.

Click on any of the images below to see what I've pinned to Pinterest recently!.  If you like to see the recipes and cooking tips that I discover and pin, I'd love to have you follow me on Pinterest!

Visit Crystal@makedinnereasy's profile on Pinterest.
Thanks for stopping by! 
If you enjoy cooking or are looking for new recipes to try,
these are ways to see more yummy ideas: 
I also share all kinds of cooking tips and recipes on
Facebook . Twitter . Pinterest . and Instagram .
I'd love to have you follow along!

Each page on this site has a comment box, so if you want to share how a recipe turned out or something you added to make it even better, feel free to comment below!  

---
Recommended Recipes