Home Page

>
Dessert Recipes
> Apple Banana Bread
Apple Banana Bread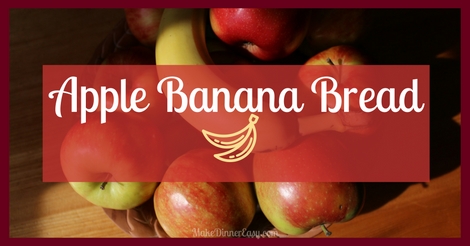 If you're not a fan of cleaning pans when you make banana bread you can line the pan with parchment paper for easy removal and clean up!

Yield 2 loaves 

3-4 Macintosh apples, peeled, cored, and finely chopped
½ lemon or 1-2 Tablespoons lemon juice
1 stick, or ¼ pound, unsalted butter, softened
2 cups granulated sugar
2 eggs
3 large bananas
1 teaspoon vanilla
3 cups, flour
1 ½ teaspoons baking powder
1 ½ teaspoons baking soda
½ teaspoon salt

Preheat the oven to 350°F. Place the chopped apples in a bowl, sprinkle with lemon juice, stir to coat, and set aside. In a large bowl, cream the butter (an electric or stand mixer is preferred). Mix in the sugar. Add the eggs, one at a time mixing well after each egg. Mash the bananas on a separate plate using a fork or potato masher and add the mashed bananas to the butter mixture, along with the vanilla and mix well. In a separate bowl, mix together the flour, baking powder, baking soda, and salt. Add the dry ingredients to the butter mixture and mix well. Stir in the chopped apples. Grease 2 loaf pans. Pour the batter evenly into the two pans. Bake at 350°F for 45-60 minutes or until a tooth pick inserted comes out clean.
Recipe Background
The apples in this apple banana bread recipe help to make this an especially moist quick bread recipe. I have made this recipe often, and my kids especially love to eat it for breakfast or an after school snack. If you want to make a banana bread but don't have time to cut up apples, another recipe I recommend is Basic Banana Bread.
This bread freezes very well and makes a nice gift.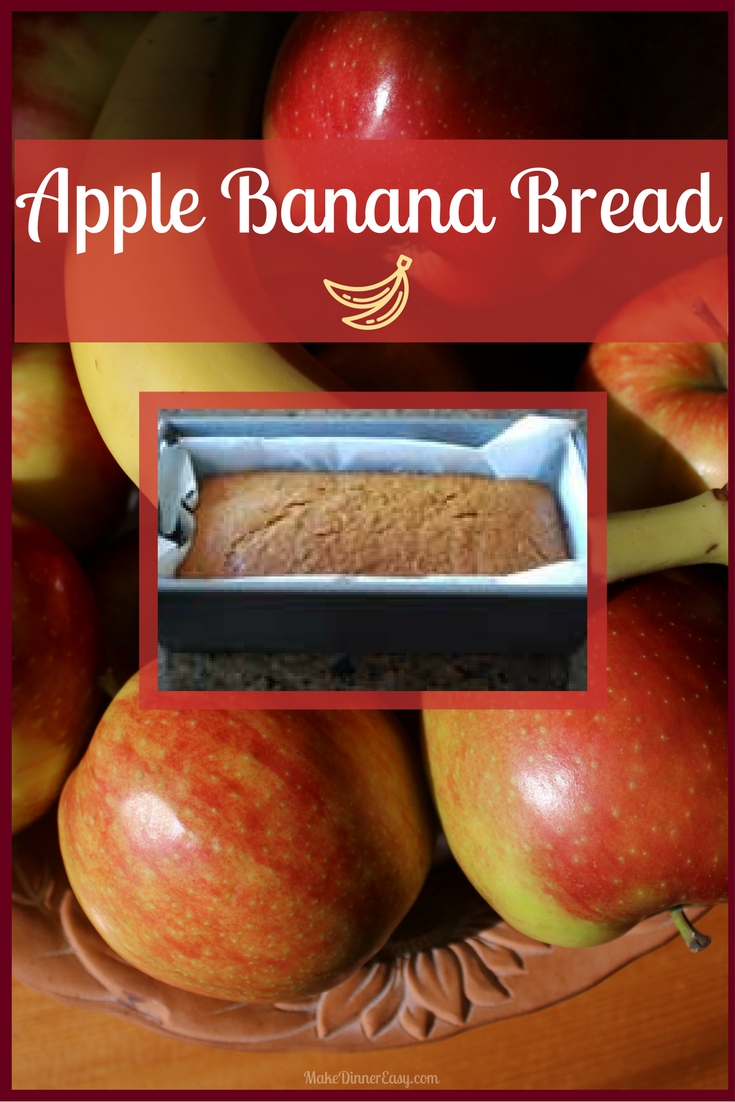 Click on any of the images below to see what I've pinned to Pinterest recently!.  If you like to see the recipes and cooking tips that I discover and pin, I'd love to have you follow me on Pinterest!

Visit Crystal@makedinnereasy's profile on Pinterest.
Thanks for stopping by! 
If you enjoy cooking or are looking for new recipes to try,
these are ways to see more yummy ideas: 
I also share all kinds of cooking tips and recipes on
Facebook . Twitter . Pinterest . and Instagram .
I'd love to have you follow along!

Each page on this site has a comment box, so if you want to share how a recipe turned out or something you added to make it even better, feel free to comment below!