Home Page

>
Dessert Recipes
> Tiramisu Recipe
Tiramisu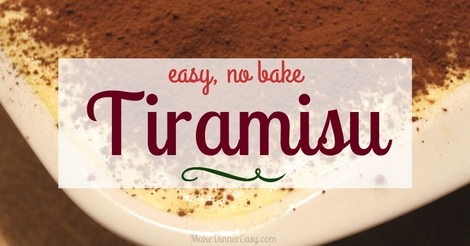 When I think of Italian dessert recipes, I think of Tiramisu. This is one of my favorite no bake desserts. It's easy to make, calls for easy to find ingredients, is amazingly delicious, and I really need to thank my friend Dana for sharing this terrific recipe. The ladyfinger cookies that are called for in are the hard variety,I usually find them in a grocery store that has a large variety of ethnic foods. Most tiramisu recipes have a coffee colored filling, this recipe has a snow white filling that is off-set by chocolate sprinkles on top. Yum!
Tiramisu Recipe
30-32 hard ladyfinger cookies (I use half of 500 gram package)
2 (8 oz.) packages of cream cheese, softened
3 (1/2 pint) containers of heavy whipping cream (they look like small milk containers)
4 Tablespoons brandy (optional if kids are eating this)
2 teaspoons vanilla extract
1 cup expresso or strong coffee
1 1/4 cups granulated sugar

Line the bottom of a 9"x13" glass pan with a single layer of ladyfinger cookies (about 15 cookies - you may have to turn some in a different direction to make them all fit)
Mix 1 cup of coffee, the brandy, 1/2 cup of sugar and 1 teaspoons of vanilla. Slowly pour 1/2 of this mixture over the cookies. Do it slowly so that each cookie has the liquid poured over it.
Using a stand or hand mixer, beat the cream cheese until smooth. Slowly add the whipping cream. Initially beat this mixture on a slow, then gradually increase the speed (otherwise it will slosh out of the bowl!). Continue to mix until it looks like a thickened whip cream (may take up to 10 minutes!). Stir in 3/4 cups of sugar and 1 teaspoon of vanilla.
Spread half of the whipped cream mixture on top of the cookies. Then add another layer of cookies. Pour the remaining coffee mixture evenly over the cookies. Spread the rest of the whipped cream mixture on top of that.
Take a small chocolate candy bar and using a vegetable peeler, make chocolate curls or you can also grate chocolate on top using a vegetable grater.
Chill covered. Can be made up to 1 hour to 1 day in advance and refrigerated.
Variation: - if you like a darker colored filling, cocoa can be added to the whipped cream mixture.
Serves 8-10
If you'd like to make this on another day, Pin it for later!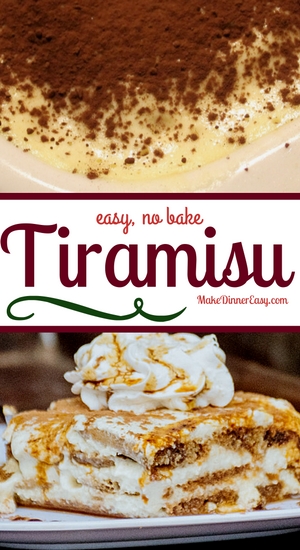 Click on any of the images below to see what I've pinned to Pinterest recently!.  If you like to see the recipes and cooking tips that I discover and pin, I'd love to have you follow me on Pinterest!

Visit Crystal@makedinnereasy's profile on Pinterest.
Thanks for stopping by! 
If you enjoy cooking or are looking for new recipes to try,
these are ways to see more yummy ideas: 
I also share all kinds of cooking tips and recipes on
Facebook . Twitter . Pinterest . and Instagram .
I'd love to have you follow along!

Each page on this site has a comment box, so if you want to share how a recipe turned out or something you added to make it even better, feel free to comment below!