Home Page

>
Dessert Recipes
> Apple Cupcakes with Cream Cheese and Coconut Frosting
Apple Cupcakes
with Cream Cheese and Coconut Frosting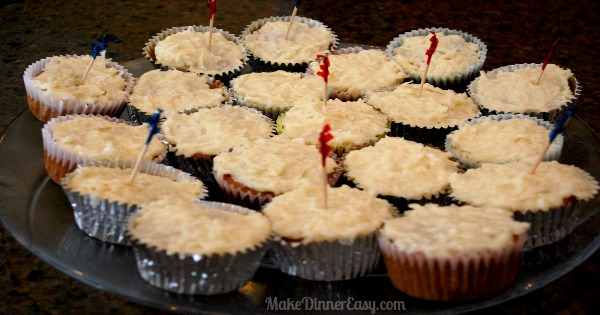 These apple cupcakes are one of my sister-in laws favorite cupcake recipes. This recipe is a winner with applesauce to make them moist and a terrific cream cheese frosting. Thanks Suz!
Apple Cupcakes Recipe

6 Tablespoons softened butter
1 cup brown sugar, either light or dark
2 large eggs
1 1/2 cups all-purpose flour
1 teaspoon ground cinnamon
1/4 teaspoon ground nutmeg
1/2 teaspoon baking soda
1/4 teaspoon salt
1 1/2 cups applesauce

Preheat the oven to 375'F. Line a 12-cup muffin tin with papers. Beat butter and sugar together until light and creamy. Beat in eggs, one at a time, beating well after each addition. In a separate bowl, mix dry ingredients. Add dry ingredients to the creamed butter. Stir in applesauce.
Spoon batter into the prepared muffin pans. Bake for approximately 25 minutes, or until a toothpick inserted into a cupcake comes out clean. Cool on a rack and frost when fully cool.
Frosting
6 oz. softened cream cheese
1 1/2 cups confectioners sugar
1 1/2 teaspoons vanilla extract
1/4 teaspoon lemon oil or 1 teaspoon grated lemon rind (optional)
1 1/4 cups flaked coconut
Using an electric mixer, mix first 4 ingredients together until smooth. Frost cupcakes. Then hold each cupcake upside down and press gently into the coconut.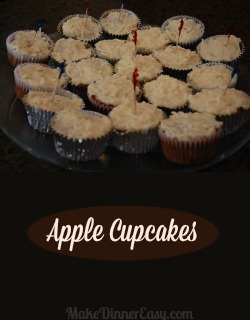 Click on any of the images below to see what I've pinned to Pinterest recently!.  If you like to see the recipes and cooking tips that I discover and pin, I'd love to have you follow me on Pinterest!

Visit Crystal@makedinnereasy's profile on Pinterest.
Thanks for stopping by! 
If you enjoy cooking or are looking for new recipes to try,
these are ways to see more yummy ideas: 
I also share all kinds of cooking tips and recipes on
Facebook . Twitter . Pinterest . and Instagram .
I'd love to have you follow along!

Each page on this site has a comment box, so if you want to share how a recipe turned out or something you added to make it even better, feel free to comment below!