Easy Pound Cake

A really easy pound cake recipe that makes a fabulous dessert when you pair it with fresh berries and whipped cream. Pound cake gets it's name because it is traditionally made with a pound each of butter, flour, eggs, and sugar. This recipe doesn't call for quite as much and is just as delicious.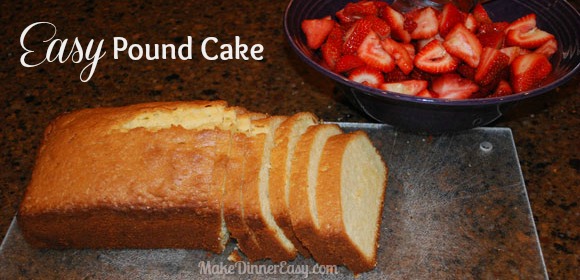 Easy Pound Cake Recipe

1 cup (2 sticks) unsalted butter, softened
1 1/2 cups granulated sugar
5 eggs, beaten
2 teaspoons vanilla
2 cups flour
1/4 teaspoon salt

Using a hand, or stand mixer blend together the softened butter and the sugar. Add the eggs and the vanilla. Scrape the bottom and sides of bowl and continue to beat for 1 more minute. Add the flour and salt and mix until just combined (don't overmix).
Pour batter into a greased 9"x5"x3" loaf pan and bake at 325'F for 45-60 minutes or until a toothpick inserted comes out clean. Cool for 10 minutes and then run a knife between the pan and the cake. Invert pan to remove the cake and continue to cool before slicing.
Serve slices with fresh berries and either whipped cream or ice cream.
Yield: 1 loaf
Want to Make This on Another Day?  Pin it For Later!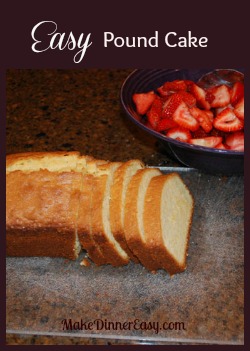 Click on any of the images below to see what I've pinned to Pinterest recently!.  If you like to see the recipes and cooking tips that I discover and pin, I'd love to have you follow me on Pinterest!

Visit Crystal@makedinnereasy's profile on Pinterest.
Thanks for stopping by! 
If you enjoy cooking or are looking for new recipes to try,
these are ways to see more yummy ideas: 
I also share all kinds of cooking tips and recipes on
Facebook . Twitter . Pinterest . and Instagram .
I'd love to have you follow along!

Each page on this site has a comment box, so if you want to share how a recipe turned out or something you added to make it even better, feel free to comment below!