Home Page

>

Beef Recipes

> Meatball Stroganoff Recipe
Meatball Stroganoff

This meatball stroganoff recipe uses pre-made frozen meatballs and can be made in less than 30 minutes. Meatball recipes can be really popular with kids and this stroganoff recipe is sure to make any cook happy who is trying to make a quick, healthy dinner.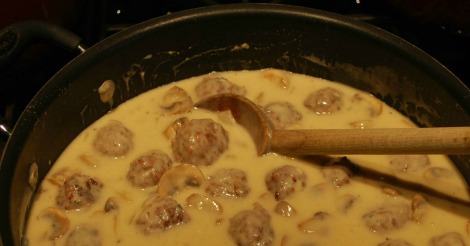 Meatball Stroganoff Recipe
This can be made in less than 30 minutes, start to finish

2 teaspoons olive oil
1.75 pound bag, frozen cooked meatballs (either 1/2" or 1" it's up to you)
4 Tablespoons butter
8 ounces fresh sliced mushrooms
1 medium yellow onion, diced
1/2 cup flour
4 cups chicken broth (1 32 oz. box of broth)
1 cup fat free half and half
1 teaspoons salt or to taste

Heat the olive oil over medium low heat in a non-stick pan. Add the frozen meatballs. Brown the meatballs on all sides by stirring or shaking the pan. This may take 7-8 minutes. Transfer the meatballs into a bowl and set aside. Return the pan to the burner. Melt the butter and add the sliced mushrooms and diced onion. Saute 2-3 minutes until softened. Turn off the burner and add the flour to the pan. Stir until the flour is completely combined with the onions and mushrooms. Add the chicken broth and the half and half. Turn the burner back on to medium-low and stir constantly until the flour is dissolved and the mixture starts to thicken. Add salt to taste. Return the meatballs to the sauce. Heat and serve over noodles.
Serves 6-8 and leftovers freeze well.
Click on any of the images below to see what I've pinned to Pinterest recently!.  If you like to see the recipes and cooking tips that I discover and pin, I'd love to have you follow me on Pinterest!

Visit Crystal@makedinnereasy's profile on Pinterest.
Thanks for stopping by! 
If you enjoy cooking or are looking for new recipes to try,
these are ways to see more yummy ideas: 
I also share all kinds of cooking tips and recipes on
Facebook . Twitter . Pinterest . and Instagram .
I'd love to have you follow along!

Each page on this site has a comment box, so if you want to share how a recipe turned out or something you added to make it even better, feel free to comment below!