Meatball Subs
I think of a bunch of times when serving meatball subs is a perfect option. I started making these for my kids as an after-practice snack but since they are so easy to make, they became a great dinnertime option too.  Of course they will taste better with homemade meatballs, but you can certainly cheat and use store bought frozen meatballs.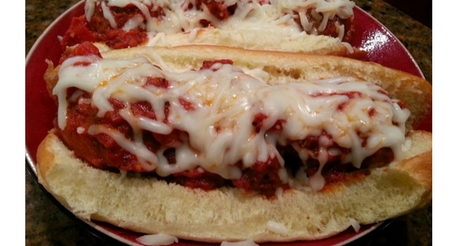 Meatball Sub Recipe
Ingredients:
About 30 homemade meatballs or a bag of frozen meatballs
1 (24 ounce) jar of your favorite spaghetti sauce or make the homemade marinara sauce listed below

8 Sub Buns ( I like Gonnella Brand buns that I can usually find near the deli counter in my grocery store)
1/2 - 1 cup shredded mozzarella cheese
Directions:
Simmer meatballs in spaghetti or marina sauce until heated through.
Place 3-4 meatballs in each sub bun, and spoon over additional sauce as desired.
Sprinkle with shredded mozzarella cheese
Broil for 1+ minute until the cheese starts to melt
Yield: about 7-8 subs
Cook's Notes
If you are using store-bought frozen meatballs, I would recommend browning them in the pan first before adding the sauce. Just a few minutes of browning will add extra flavor!

Also the ingredient quantity for this recipe are fairly fluid. The amount of sauce you will need will depend on how large your meatballs are and how saucy you like your subs. When simmering the meatballs I like to almost cover the meatballs with sauce.
Homemade Marinara Sauce Recipe
If you don't want to use store-bought marinara sauce or spaghetti sauce, this is a quick way to make it homemade:

Ingredients
2 (28 ounce cans of crushed tomatoes (San Marzano preferred)
1 medium onion, diced (about 3/4 of a cup)
1/4 cup chopped carrots (you can use 6-7 baby carrots for this)
1 Tbs olive oil
1 garlic clove
1 Tbs dried or fresh basil leaves
1 teaspoon salt
1 Tbs sugar

Directions:
Saute the onion, carrots and garlic in the olive oil until soft but not browned.  Add the crushed tomatoes, basil, salt and sugar. Simmer for 20 minutes on low until flavors are combined
You can half this recipe or freeze any leftover sauce.
Click on any of the images below to see what I've pinned to Pinterest recently!.  If you like to see the recipes and cooking tips that I discover and pin, I'd love to have you follow me on Pinterest!

Visit Crystal@makedinnereasy's profile on Pinterest.
Thanks for stopping by! 
If you enjoy cooking or are looking for new recipes to try,
these are ways to see more yummy ideas: 
I also share all kinds of cooking tips and recipes on
Facebook . Twitter . Pinterest . and Instagram .
I'd love to have you follow along!

Each page on this site has a comment box, so if you want to share how a recipe turned out or something you added to make it even better, feel free to comment below!