Home Page

>

Beef Recipes

> Oven Baked Cheese Burger Sliders

Oven Baked
Cheeseburger Sliders


These oven baked Cheese Burger Sliders are a good burger to feed a bunch of kids, to serve at a football party or even for a quick and fun dinner when it's too cold or rainy out to grill. I like serving them on Hawaiian Bread rolls because they add a bit of sweetness, but any dinner roll will do.

Preparation Time: 10 minutes Baking Time: 30 minutes

2 pounds, 93% lean ground sirloin
1/4 cup seasoned bread crumbs
1 small onion finely diced (about 3/4 cup) or 1/4 cup dried minced onions
1/2 teaspoon onion powder
1/2 teaspoon salt

1 package of dinner rolls (I like Kings Hawaiian rolls)
6 slices of Cheddar or American cheese
Preheat the oven to 400'F. In a medium bowl combine the beef, bread crumbs, diced onion, onion powder, and salt.
Evenly distribute the beef in a 9"x13"x2" baking dish. Gently press the meat mixture so that it is one large patty of even thickness. Use the tines of a fork to poke holes throughout the meat.
Bake at 400'F for about 30 minutes. As it's baking, the meat will shrink away from the sides and liquid will accumulate around the edges of the pan. When fully cooked, remove the pan from the oven (keep the oven on, your not done yet!) and carefully drain off the liquid. I usually hold the pan with a potholder in my left hand and use a spatula in my right hand to prevent the meat from falling out as I drain the liquid off. Be careful doing this, or get someone to help you drain off the liquid. If it's easier for you, use paper towels to blot off the liquid.
Top the meat with sliced Cheddar or American cheese.
Return the pan to the oven for 2 minutes or until the cheese is melted. Remove from the oven, allow to rest for a few minutes and then cut into 2"squares (or the size of your buns).
I like to serve these with a sandwich sized dill pickle slice and ketchup.
Yield 9-15 mini-burgers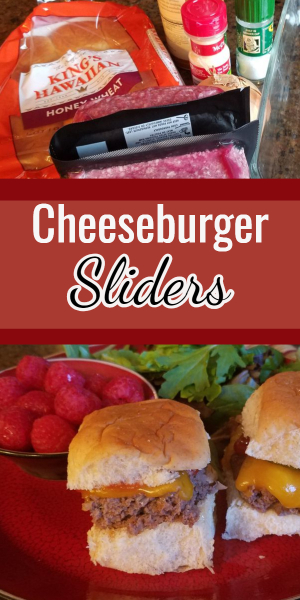 Click on any of the images below to see what I've pinned to Pinterest recently!.  If you like to see the recipes and cooking tips that I discover and pin, I'd love to have you follow me on Pinterest!

Visit Crystal@makedinnereasy's profile on Pinterest.
Thanks for stopping by! 
If you enjoy cooking or are looking for new recipes to try,
these are ways to see more yummy ideas: 
I also share all kinds of cooking tips and recipes on
Facebook . Twitter . Pinterest . and Instagram .
I'd love to have you follow along!

Each page on this site has a comment box, so if you want to share how a recipe turned out or something you added to make it even better, feel free to comment below!