Home Page

>
Beef Recipes
> Slow Cooker Beef Cubes with Mushrooms
Slow Cooker
Beef Cubes with Mushrooms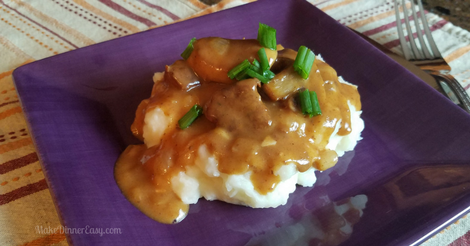 (Prep Time: 20 minutes. Cooking Time: 8.5 hours)

2# cubed stew beef
(I prefer to buy beef round tip for fondue, or if buying beef stew - cut it into smaller pieces)
2 teaspoons Hungarian Paprika + 1 teaspoon
½ teaspoon each salt and black pepper
1-2 Tablespoons olive oil
1 onion, diced
2 garlic cloves, minced
½ cup flour
3 cups beef broth
1 teaspoon beef bouillon (I prefer concentrated beef paste)
1 (8 ounce) package sliced mushrooms
3 green onions, chopped

Combine 2 teaspoons of paprika, salt and black pepper in a zip style plastic bag. Add the beef and shake to coat all of the pieces. Heat the olive oil in a non-stick pan. Place half of the beef in the pan. Sprinkle with an additional ½ teaspoon of paprika and brown the meat on all sides. Transfer to a slow cooker. Repeat with the remaining beef.
Using the same pan that the meat was browned in, add a bit more olive oil if necessary and sauté the onion and garlic cloves. Add flour and stir well until the four is completely combined. Add the beef broth and beef bouillon and cook over medium heat until the broth starts to thicken. Pour the thickened broth over the beef cubes in the slow cooker. Place the lid on and cook on low for 8 hours or on high for 5-6 hours. Meat should be fork tender when done.
20 minutes prior to serving, sauté the sliced mushroom with the green onions in a small sauce pan with 1 teaspoon of olive oil. Stir the sautéed mushrooms and green onions into the beef cubes and serve with mashed potatoes or over rice.
Serves: 6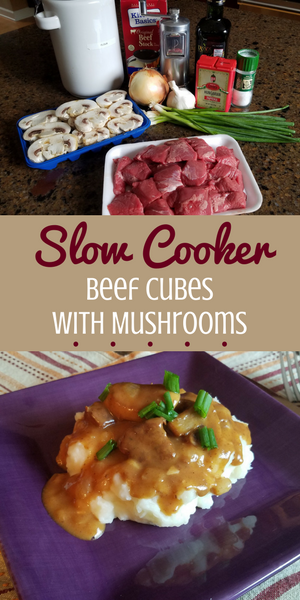 Click on any of the images below to see what I've pinned to Pinterest recently!.  If you like to see the recipes and cooking tips that I discover and pin, I'd love to have you follow me on Pinterest!

Visit Crystal@makedinnereasy's profile on Pinterest.
Thanks for stopping by! 
If you enjoy cooking or are looking for new recipes to try,
these are ways to see more yummy ideas: 
I also share all kinds of cooking tips and recipes on
Facebook . Twitter . Pinterest . and Instagram .
I'd love to have you follow along!

Each page on this site has a comment box, so if you want to share how a recipe turned out or something you added to make it even better, feel free to comment below!