Home Page

>

Beef Recipes

> Beef Stir Fry
Beef Stir Fry
(Prep Time: 20 minutes. Cooking Time: 30 minutes
¼ cup soy sauce
1/8 cup Worcestershire sauce
1 Tablespoon freshly grated ginger
4 garlic cloves, minced
1# beef top sirloin steaks (I sometimes use tenderloin), cut in ½ inch pieces
2 Tablespoons olive oil, divided
1 cup carrots, julienned
3 green onion, cut in ½" pieces
2 cups beef broth 
2 Tablespoons cornstarch
1 teaspoon fresh ginger
1 cup, snow peas or pea pods

1. Place the first 4 ingredients in a zip style bag and add meat. Marinate in the refrigerator for 3-8 hours. The longer the better.
2. 20-30 minutes before serving, heat 1 Tablespoon of olive oil in a medium size saucepan. Sauté the carrots and green onion until crisp tender, 3-4 minutes. Meanwhile mix the beef broth, cornstarch and ginger together in a medium bowl. Add broth mixture to sautéed carrots and stir until thickened. Remove from heat.
3. In a large skillet, heat the remaining Tablespoon of olive oil. When very hot, add ½ of the beef and brown on all sides (let it stick a little for flavor). When browned, add the beef to the thickened broth and repeat with the remaining portion of beef. Combine beef and broth together and heat on medium heat. Add snow peas and cook for 1 minute. Serve over rice.
Serves 4
If you want to try this recipe on another day, Pin it for later!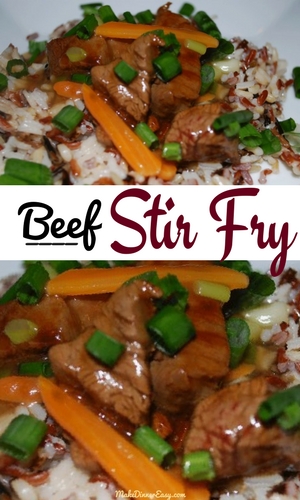 Click on any of the images below to see what I've pinned to Pinterest recently!.  If you like to see the recipes and cooking tips that I discover and pin, I'd love to have you follow me on Pinterest!

Visit Crystal@makedinnereasy's profile on Pinterest.
Thanks for stopping by! 
If you enjoy cooking or are looking for new recipes to try,
these are ways to see more yummy ideas: 
I also share all kinds of cooking tips and recipes on
Facebook . Twitter . Pinterest . and Instagram .
I'd love to have you follow along!

Each page on this site has a comment box, so if you want to share how a recipe turned out or something you added to make it even better, feel free to comment below!