Home Page

>
Beef Recipes
> Korean Beef Ribs
Recipe Background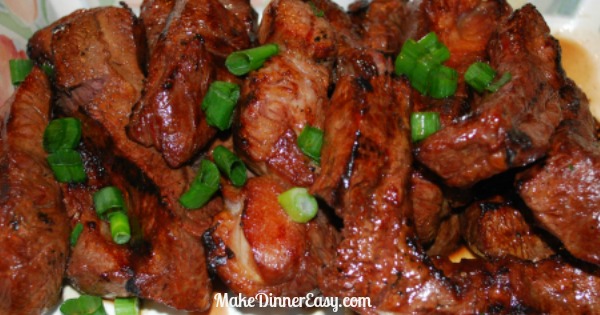 Have you ever seen a large family pack of chuck country style boneless beef ribs and wondered what to do with them or even wondered how to cook beef ribs? This recipe for Korean Beef Ribs is an easy answer. My kids love the flavor of the marinade and I love how easy they are to make.
Korean Beef Ribs
1 (10 oz) bottle lite soy sauce (about 1.5 cups)
1/4 cup sesame oil
1/4 cup granulated sugar
8 cloves of garlic, minced
4 green onions, chopped with green portion reserved
4 pounds chuck country style boneless beef ribs (about 16-18 ribs)

In a large size zip style bag, combine the soy sauce, sesame oil, sugar, garlic, and the white portion of the green onions (save the green portion for a garnish before serving). Add the ribs and refrigerate for 6-10 hours.
Remove the ribs from the marinade and grill the ribs over medium heat approximately 5-8 minutes per side or until cooked as desired.
Transfer to a serving platter and sprinkle the reserved green onions tops over the ribs.
Serves 6-10 and this recipe can be cut in half. Leftovers work great the next day for tacos or on a salad.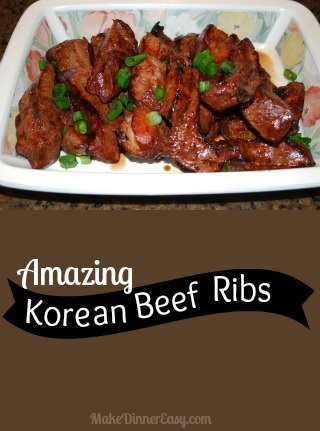 Click on any of the images below to see what I've pinned to Pinterest recently!.  If you like to see the recipes and cooking tips that I discover and pin, I'd love to have you follow me on Pinterest!

Visit Crystal@makedinnereasy's profile on Pinterest.
Thanks for stopping by! 
If you enjoy cooking or are looking for new recipes to try,
these are ways to see more yummy ideas: 
I also share all kinds of cooking tips and recipes on
Facebook . Twitter . Pinterest . and Instagram .
I'd love to have you follow along!

Each page on this site has a comment box, so if you want to share how a recipe turned out or something you added to make it even better, feel free to comment below!