Home Page

>
Beef Recipes
> Grilled Chuck Steak
Recipe Background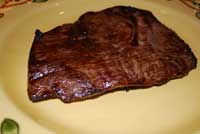 Try this grilled chuck steak recipe if you would like to use a more economical cut of meat, but still have a tender steak. The trick to achieve that is to make sure you marinate the steak for at least 8 hours, make sure you do not overcook the steak, and to cut the steak against the grain when serving. I often make extra steak and use the leftovers over salad greens the next day for lunch or dinner. If you don't want to open a whole bottle of wine just to make this recipe, consider buying a four-pack of small wine bottles. I usually keep these in the house for making marinades when I don't think we will be drinking wine with dinner.
Grilled Chuck Steak
with Red Wine Marinade
Thin, boneless chuck steak (1/2 – 1" thick)
Marinade: (enough to marinate 3-4 # of steak)
¾ cup red wine (1 mini bottle)
2/3 cup soy sauce
¼ cup olive oil
¼ cup balsamic vinegar
2 Tablespoons Worcestershire sauce
2 teaspoons Dijon mustard
3 cloves garlic, minced
1 Tablespoons brown sugar

Combine marinade ingredients in a large (gallon sized) zip-style bag. Place the steak in the bag. Place the bag in a large bowl (to prevent any leaks in the fridge!) and refrigerate for 8 hours or overnight. Remove steak from marinade and grill over medium heat until medium rare (about 4 minutes per side depending on thickness). Remove from grill and cover with foil. Allow steak to rest for 5 minutes before cutting or serving. Cut across the grain.
Click on any of the images below to see what I've pinned to Pinterest recently!.  If you like to see the recipes and cooking tips that I discover and pin, I'd love to have you follow me on Pinterest!

Visit Crystal@makedinnereasy's profile on Pinterest.
Thanks for stopping by! 
If you enjoy cooking or are looking for new recipes to try,
these are ways to see more yummy ideas: 
I also share all kinds of cooking tips and recipes on
Facebook . Twitter . Pinterest . and Instagram .
I'd love to have you follow along!

Each page on this site has a comment box, so if you want to share how a recipe turned out or something you added to make it even better, feel free to comment below!