Home Page

>

Beef Recipes

> Speedy Chili
Speedy Chili
This is my Mom's chili recipe.  I ate it growing up, I make it now for my family, have served it at countless parties, and at any given time I usually have a batch in the freezer for  a quick dinner when I don't have time to cook.  It's a family favorite for several reasons.  It really is quick to make, and it calls for individual spices, not a packaged seasoning packet.  If you are on a low salt diet or want to spice it up a bit you can by modifying the seasonings listed.  When I was growing up, my mom just served it in a bowl.  After moving to Chicago, I heard about "Chili-Mac" or chili served over small pasta.  For my family we serve this Chili Mac style with bowls of toppings such as shredded cheese, sour cream, and chopped up onions to top the chili with.  You'll want to make a double batch so you can freeze one for later!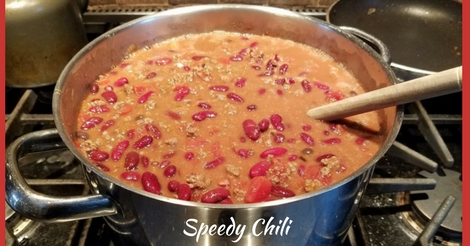 (Prep Time: 10 minutes. Cooking Time: 30-45 minutes)
(Can be made ahead or made ahead and frozen)

2# lean ground round
1 onion chopped
4 Tablespoons, flour
2 Tablespoons chili powder
2 teaspoons salt, or to taste
1/4 teaspoon black pepper
2 1lb cans chopped tomatoes
2 1lb cans kidney beans
4 teaspoons red wine vinegar

Place meat and onion in a large stock pot and brown very well. In a small bowl, combine flour, chili powder, salt and pepper and add to meat. Turn off heat and stir until flour is combined well. Add vinegar, tomatoes and liquid from beans and bring to a boil. Cook on med for 20 minutes. Add beans. Simmer until desired consistency. Serve with chopped onion, cilantro, sour cream and shredded cheese.

Click the "Pin-it" Button Below
if you want to save this recipe to try later!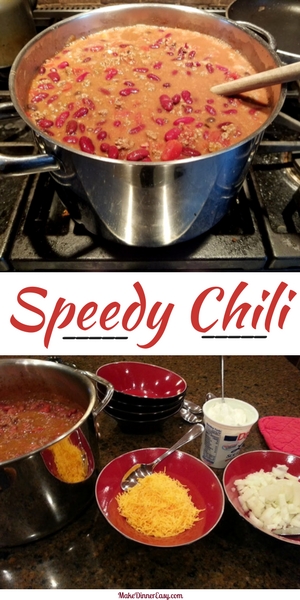 Click on any of the images below to see what I've pinned to Pinterest recently!.  If you like to see the recipes and cooking tips that I discover and pin, I'd love to have you follow me on Pinterest!

Visit Crystal@makedinnereasy's profile on Pinterest.
Thanks for stopping by! 
If you enjoy cooking or are looking for new recipes to try,
these are ways to see more yummy ideas: 
I also share all kinds of cooking tips and recipes on
Facebook . Twitter . Pinterest . and Instagram .
I'd love to have you follow along!

Each page on this site has a comment box, so if you want to share how a recipe turned out or something you added to make it even better, feel free to comment below!