Home Page

>
Beef Recipes
> Asian Sirloin Steak
Grilled Asian Sirloin Steak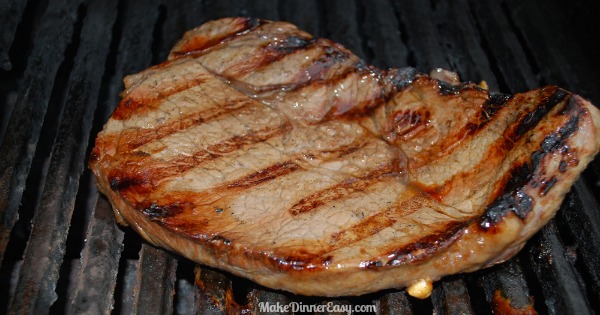 1/3 cup olive oil
2 cloves garlic, minced
2 Tablespoons red wine vinegar
1/3 cup soy sauce
1 Tablespoon freshly grated ginger root
2 Tablespoons honey
¼ teaspoons each salt and black pepper
2-3# boneless top sirloin steak

In a small bowl, mix together the first seven ingredients. Place the steaks in a large zip style bag and pour the marinade mixture in the bowl over the steaks. Seal the bag and place the bag of steaks in a baking dish (to avoid a mess if the bag leaks!). Refrigerate for 8-20 hours, turning and massaging the steaks occasionally.
About 20-30 minutes before you are ready to serve dinner, remove the steaks from the marinade and grill over medium heat until steaks reach desired degree of doneness. Cooking times may vary, for medium-rare, cook approximately 5-7 minutes per side for a 1" steak or 7-9 minutes per side for a 1- 1/2" steak. Allow steak to rest for about 5 minutes off of the grill before slicing or serving.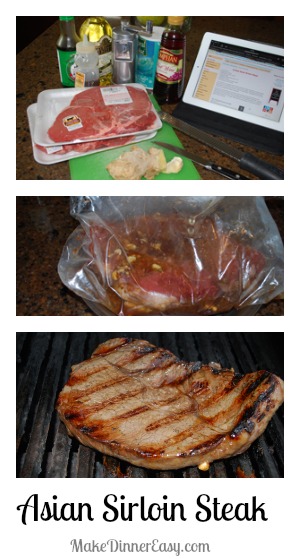 Click on any of the images below to see what I've pinned to Pinterest recently!.  If you like to see the recipes and cooking tips that I discover and pin, I'd love to have you follow me on Pinterest!

Visit Crystal@makedinnereasy's profile on Pinterest.
Thanks for stopping by! 
If you enjoy cooking or are looking for new recipes to try,
these are ways to see more yummy ideas: 
I also share all kinds of cooking tips and recipes on
Facebook . Twitter . Pinterest . and Instagram .
I'd love to have you follow along!

Each page on this site has a comment box, so if you want to share how a recipe turned out or something you added to make it even better, feel free to comment below!