Home Page

>
Appetizer Recipes
> Beer Braised Brisket
Beer Braised Brisket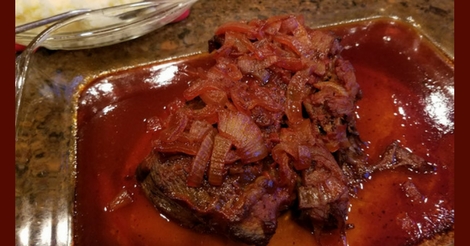 I developed this recipe for Beer Braised Brisket in an attempt to replicate the delicious brisket made by a friend's mother. It's an easy fill up your tummy dish that goes great with mashed potatoes.
Prep time: 20 minutes. Roasting Time 4 hours)
3-4# Boneless Beef Chuck Steak or "Pot Roast"
1 onion, cut up in large chunks
6 garlic cloves, coarsely chopped
¼ teaspoon freshly ground black pepper
1 (12 ounce) bottle of beer (any kind will do)
2 teaspoons cornstarch
1 (14 ounce) can diced tomatoes
1 Tablespoon red wine vinegar
2 teaspoons beef bouillon 
1 Tablespoon Worcestershire sauce

1. Place a 3' long piece of heavy duty foil on top of a large roasting pan (I use a 17x12x2" pan). Loosely form the foil to the bottom of the pan with the rest of the foil hanging over the sides.
2. Put the steak in the foiled lined pan.
3. Pour the undrained canned tomatoes in medium saucepan, add the cornstarch and stir well until the cornstarch is completely dissolved. Add the rest of the ingredients to the sauce pan (it may foam when you add the beer) and cook over medium high. Stir and cook until the mixture comes to a boil and thickens. Pour the mixture over the meat.
4. Bring sides of foil together so that there is a 4-5 inch air pocket between the food and the inside of the foil and seal edges very tightly. The edges should be brought together and crimped so that steam cannot escape. Bake at 350° for 4 hours (yes that long).
Serves: 6-8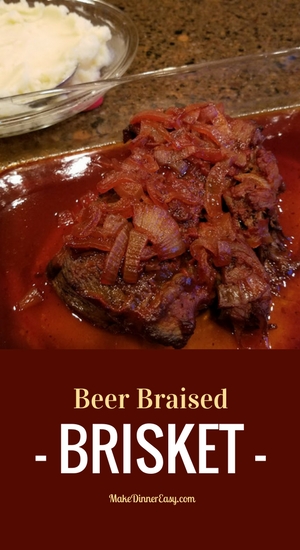 Click on any of the images below to see what I've pinned to Pinterest recently!.  If you like to see the recipes and cooking tips that I discover and pin, I'd love to have you follow me on Pinterest!

Visit Crystal@makedinnereasy's profile on Pinterest.
Thanks for stopping by! 
If you enjoy cooking or are looking for new recipes to try,
these are ways to see more yummy ideas: 
I also share all kinds of cooking tips and recipes on
Facebook . Twitter . Pinterest . and Instagram .
I'd love to have you follow along!

Each page on this site has a comment box, so if you want to share how a recipe turned out or something you added to make it even better, feel free to comment below!