Home Page

>
Beef Recipes
> Passover Brisket
Passover Brisket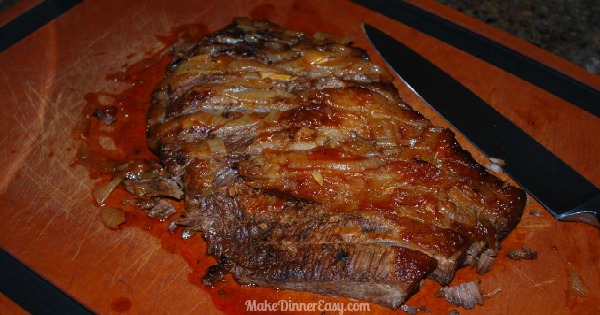 This recipe for Passover Brisket is my new favorite special occasion entrée recipe that is terrific for entertaining or a holiday dinner. The recipe came from the cookbook, Emeril's Potluck: Comfort Food with a Kicked up Attitude by Emeril Lagasse. While I did not alter the ingredients, I did simplify the preparation and added a step to defat the braising liquid. Whether or not you celebrate Passover, I think you will enjoy this dish. This dish tastes better if prepared the day before you wish to serve it. When it comes to entertaining, I consider this a bonus as it allows you to serve a delicious entrée without having a pile of dirty dishes during the dinner. You will have dirty dishes of course, just not so many during dinner!
Passover Brisket Recipe

6# brisket (I actually used 2 (3.5#) pot roasts from Costco)
1 head of garlic, cloves peeled
1 quart beef stock
3 Tablespoons olive oil
4 cups sliced onions
1 cup ketchup
1 cup chili sauce
1 cup brown sugar
2 teaspoons salt
2 teaspoons Emeril's Original Essence
1 teaspoon black pepper
1 teaspoon onion powder
1 teaspoon garlic powder

1. Place the brisket in a deep foil lined pan (I used an extra long piece of heavy duty foil and gently folded the ends up during the broiling process). Make slits in the brisket with a knife and insert garlic clove "spears" into the meat on both sides. Place the brisket in the oven and broil on high about 10 minutes per side so that both sides are browned on top.
2. Meanwhile, heat the oil in a large skillet and add the onions. Sauté for 15-20 minutes until slightly browned.
3. Combine all the remaining ingredients (except the stock) in bowl.
4. When the brisket has been browned on both sides, remove from the oven. Pour beef stock over meat (this is why you need a deep pan). Then, spoon chili sauce mixture over the meat. Finally, top the meat with the sautéed onions. 
5. Unfold the ends of the foil and bring up and over the brisket, sealing the foil well. Bake at 350 F for 4 hours. Remove the brisket from the oven and let cool for at least 1 hour.
6. When cool, transfer the brisket to a cutting board using 2 spatulas. Cut the brisket, against the grain, into 3/4" slices and arrange in a baking pan. Pour all liquid from pan into a separate container. Refrigerate both the cooked brisket and the cooking liquid.
7. After the liquid has been refrigerated for at least 8 hours, use a spoon to take off any congealed fat that has hardened and risen to the top of the liquid. Pour this de-fatted liquid over the meat. Refrigerate the meat until 1 hour prior to serving.
8. Prior to serving, reheat the brisket that is soaking in the defatted liquid for 1 hour at 325 F.
Any leftover meat can be shredded, placed in some of the leftover braising liquid and used to make a yummy BBQ beef sandwich

Serves 8-10
Click on any of the images below to see what I've pinned to Pinterest recently!.  If you like to see the recipes and cooking tips that I discover and pin, I'd love to have you follow me on Pinterest!

Visit Crystal@makedinnereasy's profile on Pinterest.
Thanks for stopping by! 
If you enjoy cooking or are looking for new recipes to try,
these are ways to see more yummy ideas: 
I also share all kinds of cooking tips and recipes on
Facebook . Twitter . Pinterest . and Instagram .
I'd love to have you follow along!

Each page on this site has a comment box, so if you want to share how a recipe turned out or something you added to make it even better, feel free to comment below!