Home Page

>
Beef Recipes
> Burger Recipe
Recipe Background
A burger that tastes like a steak? This Steakhouse Burger Recipe uses just enough steak sauce and other seasonings to pull off such a feat. Ground Beef Recipes don't always specify what kind of beef to use, but many burger aficionados recommend using ground chuck when making burgers. However you certainly can substitute leaner ground round or ground turkey in this recipe.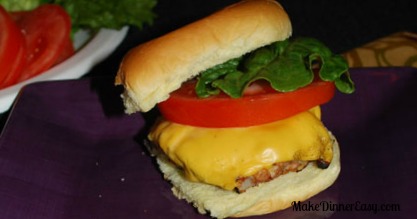 Steakhouse Burger Recipe
2 pounds ground chuck
1/2 onion, finely diced (about 1/2 cups)
3 Tablespoons steak sauce (such as A-1)
1 egg, beaten
1/4 teaspoon garlic powder
1/4 teaspoon onion powder
1/8 teaspoon salt
1/8 teaspoon freshly ground black pepper

Combine all ingredients in a medium sized bowl (I use my hands to mix). Loosely form 6 burger patties (you can make more or less depending on how large you like your burgers). Grill over medium heat, turning once for about 5-7 minutes per side or until desired degree of doneness is achieved.
Click on any of the images below to see what I've pinned to Pinterest recently!.  If you like to see the recipes and cooking tips that I discover and pin, I'd love to have you follow me on Pinterest!

Visit Crystal@makedinnereasy's profile on Pinterest.
Thanks for stopping by! 
If you enjoy cooking or are looking for new recipes to try,
these are ways to see more yummy ideas: 
I also share all kinds of cooking tips and recipes on
Facebook . Twitter . Pinterest . and Instagram .
I'd love to have you follow along!

Each page on this site has a comment box, so if you want to share how a recipe turned out or something you added to make it even better, feel free to comment below!