Home Page
› Chicken Recipes
Chicken Recipes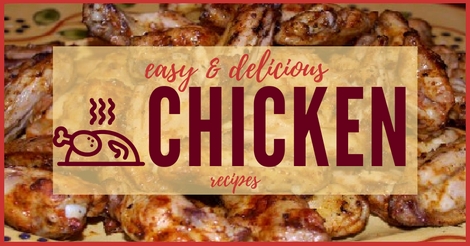 You are not alone if you love simple chicken recipes, especially if they are delicious, healthy, and easy to prepare.

These recipes are a terrific option for dinner if you are looking for economy, and something easy to cook. Most of the dishes listed are also great if you are looking for kid friendly dinner recipes.
In general, meat cooked with the bone, and darker portions such as thighs will be more moist. I also highly recommend using a meat thermometer to assure that your poultry is cooked enough, but not too much. The USDA recommends an internal cooking temperature of 165°F.
I've organized these recipes in two ways.  Below, the recipes are listed according to how you cook them.  So, if you know you want to cook something in the slow cooker then you can find all of those recipes listed together.
You can also find recipes by the type of chicken you have on hand.  While most recipes could be made with thighs or breasts, some recipes just work better with certain parts of the bird.
Baked Recipes
Chicken and Dumpling Casserole
Orange Glazed Chicken
Chicken Roma
Baked Parmesan Chicken
Chicken and Wild Rice Casserole
Chicken and Broccoli Strudel
Hot Chick Melts
Greek Chicken
Baked Fried Chicken
Chicken Tetrazzini
Baked Chicken Parmasana
Chicken and Stuffing Casserole
Chicken Enchiladas
Pecan Crusted Chicken Dijonnaise
Roasted Rosemary Chicken
Sweet and Spicy Baked Chicken
Lemon Teriyaki Chicken
Chicken Pot Pie Recipe
Heavenly Chicken
Slow Cooker Recipes
Slow Cooker Chicken Paprikash
Slow Cooker Italian Chicken
Slow Cooker Chicken and Dumplings
Slow Cooker Coconut Chicken Curry
Slow Cooker Lemon Chicken
Slow Cooker BBQ Chicken
Slow Cooker Mexicali Chicken
Slow Cooker Chicken and Sausage Chicken Cassoulet
Slow Cooker Herbed Chicken Drumsticks

Stove Top Recipes
White Chicken Chili
Lettuce Wraps with Peanut Sauce
Artichoke Chicken Linguine
Skillet Chicken with Mushrooms
Southwest Chicken Patties
Kung Pao Chicken
Sesame Chicken Recipe

Recipes for the Grill
Marinated Grilled Chicken
Mediterranean Grilled Chicken Legs
Grilled Chili Lime Chicken Legs

Miscellaneous Recipes
Rice Cooker Arroz Con Pollo
Rotisserie Chicken Salad
Recipes Submitted by Viewers
Please consider sharing your favorite recipe by clicking here!  I've gotten some amazing recipes from my friends.  And, some viewers of this site have kindly submitted their own favorite easy chicken recipes.  If you have one you would care to share, please click on the link above - it's as easy as typing it in to submit!

Thanks to viewers who have submitted these recipes:

Carmen's Potato Coated Chicken
Italian Baked Chicken
Bacon Ranch Burgers
Chicken Fricasse
Slow Cooker Chicken with Potatoes and Leeks
King Chicken
Really Quick Chicken Dish
Chicken and Broccoli Casserole
---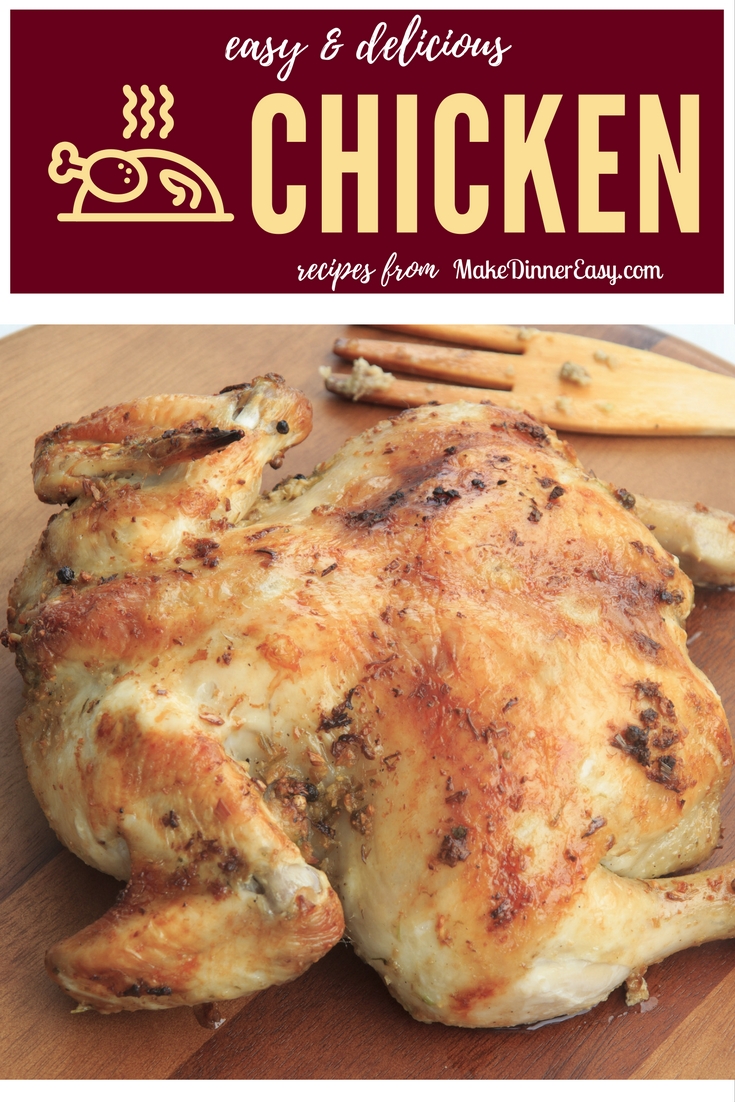 Want To Look Around Some More?

Go back to see more Chicken Recipes for Dinner
Return to Weekly Dinner Menus and Recipes for This Week
---
Click on any of the images below to see what I've pinned to Pinterest recently!.  If you like to see the recipes and cooking tips that I discover and pin, I'd love to have you follow me on Pinterest!

Visit Crystal@makedinnereasy's profile on Pinterest.
Thanks for stopping by! 
If you enjoy cooking or are looking for new recipes to try,
these are ways to see more yummy ideas: 
Each week (usually on Mondays) I send out an  e-Newsletter to over 11,000 people with a link to the free dinner menus and printable grocery list that I've created for the week.  You can Sign Up for the Newsletter (it's free) to be added to my next mailing.
I also share all kinds of cooking tips and recipes on
Facebook. Twitter. Google+, Pinterest, and Instagram. 
I'd love to have you follow along!

If you're interested in social media, or want to pick up tips
on how to use it, come join me at Clear Path Social on Twitter. 
Each page on this site has a comment box, so if you want to share how a recipe turned out or something you added to make it even better, feel free to comment below! 

Crystal