Home Page

>
Appetizer Recipes
> Marinated Grilled Chicken
Marinated Grilled Chicken
This is my go-to grilled chicken recipe.  I have made it countless times for parties, dinners with friends, and family dinners.  It's super easy, just marinated the chicken overnight or even a few hours before you want to grill.  Personally I like to use boneless, skinless chicken thighs because they are so tender, but you can use this recipe for any cut of chicken you prefer.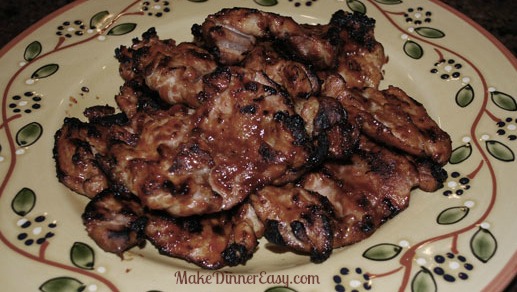 (Prep Time: 15 minutes)
4-6 boneless skinless chicken breasts or thighs
½ cup olive oil
¼ cup balsamic vinegar
2 Tablespoons dry mustard (can substitute Dijon or yellow mustard)
2 garlic cloves, finely chopped
1/4 onion, finely diced
1/8 cup honey
1 Tablespoon Worcestershire Sauce
½ Tablespoon Black Pepper
1 Tablespoon salt

Combine all ingredients in a zip style bag. Add chicken and marinate overnight or at least for a few hours in the refrigerator.
Remove chicken from bag and grill until done.
Cook's Note: I love using zip style bags to marinate meat. I can easily turn the meat and massage the marinade into the meat and clean up is very easy
Want to make this on another day?  Pin it for later!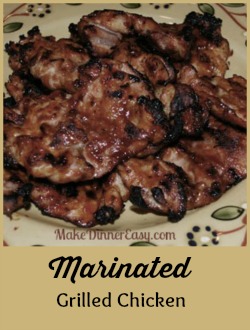 Click on any of the images below to see what I've pinned to Pinterest recently!.  If you like to see the recipes and cooking tips that I discover and pin, I'd love to have you follow me on Pinterest!

Visit Crystal@makedinnereasy's profile on Pinterest.
Thanks for stopping by! 
If you enjoy cooking or are looking for new recipes to try,
these are ways to see more yummy ideas: 
I also share all kinds of cooking tips and recipes on
Facebook . Twitter . Pinterest . and Instagram .
I'd love to have you follow along!

Each page on this site has a comment box, so if you want to share how a recipe turned out or something you added to make it even better, feel free to comment below!