Home Page

>
Appetizer Recipes
> Lettuce Wraps
Lettuce Wraps

This recipe for Lettuce Wraps is as easy to make as it is fun to eat. It can be made as an appetizer or as a main dish. The recipe for peanut sauce will make more than you will need for 4 servings of lettuce wraps. The sauce stores or freezes well and can also be used as a veggie dip.  If you make the sauce ahead it may thicken up a bit, just add a little water to thin it to the desired consistency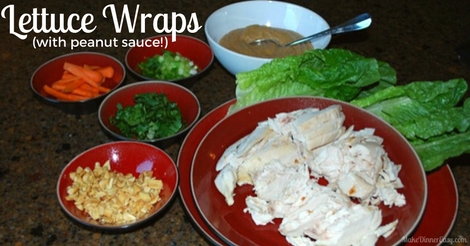 Lettuce Wraps with Peanut Sauce Recipe

(Prep Time: 20 minutes. Cooking Time: 10 minutes)

3 cups cooked chicken, diced or shredded (pre-cooked rotisserie or leftover chicken works great)
1 head butter or Bibb lettuce (I prefer butter lettuce for this recipe)
½ cup julienned raw carrots
½ cup julienned cucumber
¼ cup chopped green onion
¼ cup chopped cilantro
½ cup finely chopped peanuts

Peanut Sauce
1 teaspoon olive oil
¼ cup finely chopped onion
½ cup peanut butter (either crunch or smooth)
1 ¼ cups chicken broth (in a pinch I have made it with water plus a little extra salt!)
1 teaspoon soy sauce
1/8 teaspoon cayenne pepper (optional)

1. Make peanut sauce by heating olive oil in a medium skillet and sautéing the onion until tender. Add the remaining ingredients, stirring over low heat until blended. Additional broth can be added if sauce is too thick.
2. Arrange chicken, lettuce and vegetable on a platter. Place cilantro and chopped peanuts in separate small bowls.
3. Serve by placing a desired amount of chicken and vegetables on a lettuce leaf and top with cilantro and peanuts. Spoon a small amount of sauce on top. Roll lettuce up burrito fashion.

Serves: 4
Want to make this on another day?  Pin it for later!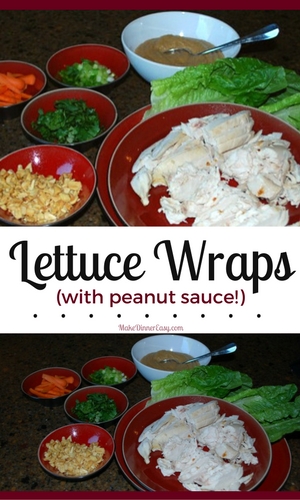 Click on any of the images below to see what I've pinned to Pinterest recently!.  If you like to see the recipes and cooking tips that I discover and pin, I'd love to have you follow me on Pinterest!

Visit Crystal@makedinnereasy's profile on Pinterest.
Thanks for stopping by! 
If you enjoy cooking or are looking for new recipes to try,
these are ways to see more yummy ideas: 
I also share all kinds of cooking tips and recipes on
Facebook . Twitter . Pinterest . and Instagram .
I'd love to have you follow along!

Each page on this site has a comment box, so if you want to share how a recipe turned out or something you added to make it even better, feel free to comment below!