About Me &
Contact Information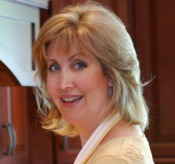 Thanks for stopping by.   I'm the Mom of four teens, living in the Chicago Suburbs, and I really enjoy sharing my love of cooking with others.  For years I have been sharing my recipes and cooking shortcuts with friends.  When they started asking me to cook for them because they just didn't know what to make for dinner, this site was born.
Feel free to ask a question either by filling out the contact form below, or on my Facebook Page.  Many of my readers also like to make comments at the bottom of each page on this site under the recipes they have made.  This is great feedback for me and for future readers of this site.
This is a PR friendly Blog. 
If you are a company that has a great ingredient, kitchen appliance, or cooking product I would love to talk to you.  My readers trust my opinion and love to hear about, sample, and read reviews about new products and equipment. If you would like to discuss a campaign, please contact me at:

Like what you see?  I'd love to have you follow along with me by clicking on any of the social media channels you follow.  You can do that by either clicking on the buttons to the right or on the links below
Facebook:  https://www.facebook.com/MakeDinnerEasy
Twitter:  https://twitter.com/makedinnereasy
Pinterest:  http://pinterest.com/cookingcrystal/
Instagram: http://instagram.com/makedinnereasy#
  I'll surprise you with cooking tips, bonus recipes, contests, giveaways, and other fun stuff!  Remember, I provide FREE weekly dinner menus and a printable weekly grocery shopping list along with family friendly recipes.  Just click on the easel on the right to see what I've got cooking for this week!

In the meantime, if you still have a question, comment, or inquiry feel free to fill out the contact form below and I'll get back to you just as soon as I can!
Crystal
Privacy Policy & Affiliate Partnerships
© 2008-2013 MakeDinnerEasy.com All Rights Reserved.