Easy Dinner Ideas

Looking for some easy dinner ideas? Need an idea for dinner tonight?
It can be hard to find the time to make a homemade meal while juggling work, taking care of the kids, homework help, and family activities. It's also hard to answer the perpetual question of What's for dinner?
You can Make Dinner Easy if you have easy dinner ideas, have weekly dinner menus planned out, and have the necessary ingredients on hand.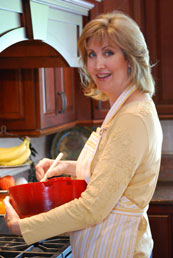 Let me help you get dinner on the table!

I'm the mom of four busy kids and I love to cook. Each week I share five free simple weekly dinner menus, quick-easy dinner recipes, and an organized free printable grocery list.  If you never know what to make for dinner, these weekly ideas may be the answer to making easy homemade meals.

Each weekly dinner menu includes family friendly dinner recipes that are quick and easy to make. I try to include fresh fruits and vegetables and a minimum of processed ingredients.
I also try to incorporate recipes into my menus that fit with seasonal, holiday, or religious observations. If you want to browse around this site, you will find over 300 family friendly recipes, cooking tips, and product recommendations. 

In addition, I  frequently post new recipes, product reviews, giveaways, and cooking tips on my Easy Dinner Blog.  Click on the navigation bars under the "Getting Started" Section at the top left corner of this page to access the blog, the menus for this week, and info on how to subscribe to my free weekly newsletter!  I also have a great community on Facebook and other Social channels, hope you'll join me as I share recipes and fun cooking ideas!

---
Easy Dinner Recipes
Need a new dinner idea?  Click on any of these these photos to see the quick-easy dinner recipes under each category!  These are just some of the recipe categories on this site, you can find the rest by clicking the navigation bars to the left.

Free Weekly Dinner Plans & Shopping List

I would love to send you a notice when new recipes and menus are added,
please click here to subscribe for free.
I post new menus every week by Saturday on my Dinner Menus Page and by subscribing you not only receive notification that the new menus are posted but you will also receive bonus or preview recipes that you and your family will love.  Over 11,000 people subscribe to this newsletter and I constantly receive feedback that my readers find it helpful to receive.

Wishing You Good Cooking!

Thanks for stopping by! 
If you enjoy cooking or are looking for new recipes to try,
these are ways to see more yummy ideas: 
Each week (usually on Mondays) I send out an  e-Newsletter to over 11,000 people with a link to the free dinner menus and printable grocery list that I've created for the week.  You can Sign Up for the Newsletter (it's free) to be added to my next mailing.
I also share all kinds of cooking tips and recipes on
Facebook. Twitter. Google+, Pinterest, and Instagram. 
I'd love to have you follow along!

If you're interested in social media, or want to pick up tips
on how to use it, come join me at Clear Path Social on Twitter. 
Each page on this site has a comment box, so if you want to share how a recipe turned out or something you added to make it even better, feel free to comment below! 

Crystal