Home Page
> Subscribe
View the Dinner Plans, Recipes and Grocery List for this week!
then come back to this page to subscribe to receive them free every week!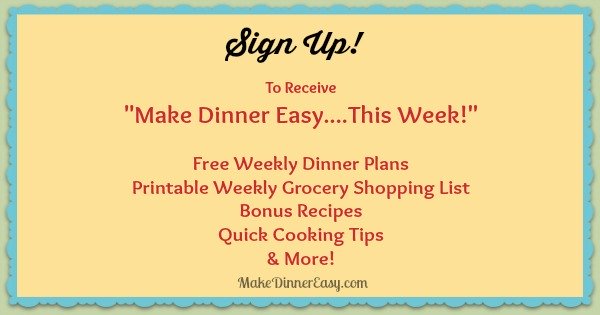 There are subscription dinner planning services that charge a monthly fee for weekly dinner plans. This dinner planning service is different, it's free!  I've had friends urge me for years to charge for these plans, but it's just not in my heart to do so. I earn enough through advertising and corporate sponsors to allow me to continue to provide these menus for no charge. The only payment I'll gladly accept is if you'll tell your friends about this site in person or on social media.
I've been running this website for over 10 years. During that time I sent out a weekly newsletter informing subscribers that the new menus were posted.
I'm no longer sending out emails as most of my viewers prefer the notifications on Facebook and Twitter when the new menus are posted.
I post new menus and a printable grocery shopping list each week by Sunday night. You can bookmark my Dinner Menus page on this site to see the menus for the week.
I'd also love your follow on Facebook and Twitter where I'll post a link each Monday to the new menus.

Thanks for stopping by!

I also share cooking tips and recipes on
Facebook. Twitter
 Pinterest, and Instagram. 
and I'd love to have you follow along!

If you're interested in social media,
come join me at Clear Path Social on Twitter. 
Each page on this site has a comment box, so if you want to share how a recipe turned out or something you added to make it even better, feel free to comment below!  I really love the comments made by people who share their success in the kitchen!

Crystal