Seafood Recipes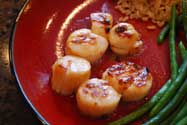 Many people are trying to include more fish and seafood recipes into their weekly diet. Because seafood is often expensive, it can be helpful to know if the recipe will work and if it will be a dish your family will enjoy. The following recipes have been tested and approved by my family. I hope your family enjoys them as well!
Greek Shrimp
Salmon Patties
Crabby Patties
Crispy Baked Tilapia
Shrimp Italiano
Dijon Glazed Tilapia
Stuffed Sole
Creamy Clam Chowder
Parmesan and Panko Crusted Salmon
Fisherman Stew
Garlic Shrimp
Harvest Tuna Melts
Crispy Bay Scallops
Glazed Salmon
Fish Nuggets
Jambalaya
Simple Sauteed Scallops
Parmesan Tilapia
Sautéed Tilapia with Citrus Butter

Recipes Submitted by Viewers
Please consider sharing your favorite recipe by clicking here!

Thanks to viewers who have submitted these recipes:

Shrimp Scampi
Sauteed Shrimp with Artichokes and Cilantro
Privacy Policy & Affiliate Partnerships
© 2008-2013 MakeDinnerEasy.com All Rights Reserved.