Pork Recipes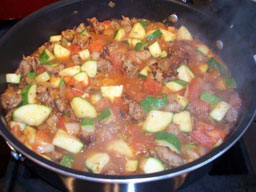 Whether you are looking for an easy recipe for ribs, roasts, or chops, pork recipes can be a family favorite. Many people shy away from pork because their results have been dry or unpredictable. I have some recipes that help to solve that problem.




Slow Cooker Ribs
Glazed Italian Sausage
Sausage Calzones
Grilled Pork Tenderloin with Sesame Seeds
Warm Pork Tenderloin Salad with Dijon Dressing
Slow Cooker Kielbasa and Sauerkraut
Grandma Jo's Hot Ham & Cheese Sandwiches
Oven Braised BBQ Ribs
Roasted Italian Sausage with Potatoes, Peppers, and Onions
Slow Cooker Pulled Pork Sandwiches
Grilled Pineapple and Ham Kabobs with a Brown Sugar Glaze
Marinated Pork Roast with Red Wine Sauce
Italian Sausage Skillet
Stuffed Pork Tenderloin
Slow Cooker Pulled Pork Sandwiches
Slow Cooker Barbeque Pork Sandwiches

Recipes Submitted by Viewers
Please consider sharing your favorite recipe by clicking here!

Thanks to viewers who have submitted these recipes:

Scrambled Egg Pizza
Pork Chops and Scalloped Potatoes
Perfect Crock Pot Pork Roast
Gingered Pork with Peanut Sauce








Go from Pork Recipes to
Home Page