Home Page

>
Pork Recipes
> Sausage Calzones
Recipe Background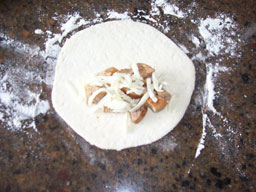 Kids love foods that are fun to eat. This recipe for sausage calzones certainly fits the bill. If you unfamiliar with calzones, they are a half moon shaped baked sandwich which has the filling or toppings on the inside. They can be picked up and eaten with your fingers and they are served with a fun dipping sauce. While you can certainly make your own dough, most people I know want something a little easier. I've experimented with using everything from frozen bread dough to pizza dough. The easiest solution, I found was to use refrigerated biscuit dough that comes in a tube. The dough is already formed in a circle and stays in that shape when it is rolled out, making the finished product attractive. Although this recipe calls for sausage, you can use any filling. 
Sausage Calzones
2 cups cooked Italian Sausage, diced 
1 (16.3) ounce Pillsbury Buttermilk Grands Biscuit dough (8 biscuits in a tube)
1 to 1 1/2 cups shredded mozzarella cheese
1 egg beaten
1 (14 ounce) jar spaghetti sauce

1. On a floured surface, roll out 1 biscuit until it is a circle, 5-6" in diameter.
2 Dip your fingers in a bowl of water a slightly wet the perimeter of the circle.
3. Place approximately 1/4 cup of diced and cooked sausage along with 1/8 cup of cheese on the bottom half of the circle (leave about 1/2" of the moistened perimeter free of filling)
4. Fold the top half of the circle over the sausage and cheese5. Use a fork to press the outside edges down, leaving fork tine marks around the edges.
6. Place the calzone on a parchment paper lined cookie sheet. Repeat steps 1-6 until 8 calzones are made.
7. Brush the beaten egg over the top of each calzone.
8. Bake at 350°F for 12-15 minutes or until lightly browned.
9. Meanwhile, heat the spaghetti sauce.
10. Serve with heated sauce.

Yield 8 calzone sandwiches
Click on any of the images below to see what I've pinned to Pinterest recently!.  If you like to see the recipes and cooking tips that I discover and pin, I'd love to have you follow me on Pinterest!

Visit Crystal@makedinnereasy's profile on Pinterest.
Thanks for stopping by! 
If you enjoy cooking or are looking for new recipes to try,
these are ways to see more yummy ideas: 
I also share all kinds of cooking tips and recipes on
Facebook . Twitter . Pinterest . and Instagram .
I'd love to have you follow along!

Each page on this site has a comment box, so if you want to share how a recipe turned out or something you added to make it even better, feel free to comment below!