Home Page

>
Pork Recipes
> Roasted Italian Sausage
Recipe Background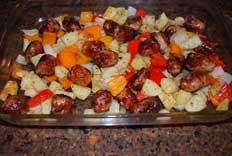 This is an easy way to make Roasted Italian Sausage for a weeknight, or even a party with friends. I recommend that you cook the sausage and vegetables separately in order to decrease the fat in this dish. This is really low fuss, doesn't take long to make, and gets a double thumbs up in my house!
Roasted Italian Sausage
with Potatoes, Peppers and Onions
Preparation Time 10 minutes Baking Time 35 minutes
For the veggies:
4 baking potatoes, peeled, each cut into 8 chunks
1 yellow pepper, cut into about 16 chunks
1 red or green pepper, cut into about 16 chunks
1 large onion, coarsely diced
2 Tablespoons light olive oil
1 ½ teaspoons salt
1 Tablespoon dried oregano

For the Sausage:
6 links Italian Sausage (sweet or spicy, your choice)
2 Tablespoons light olive oil
Paprika

Preheat the oven to 400°F.
Place potatoes, peppers, onion, 2 Tablespoons of olive oil, salt and oregano in a 9"x13"x2" glass baking dish. Toss so that the veggies are coated with the olive oil.
Cut each sausage link into 3-4 pieces. Place the sausages, 2 Tablespoons of olive oil and a generous sprinkle of paprika in a separate 9"x13"x2" glass baking pan. Toss so that the sausage is coated with the olive oil.
Bake for 30-40 minutes, stirring after 15-20 minutes. When the sausage is fully cooked, remove both pans from the oven. Blot the sausages with a paper towel to remove excess grease. Add sausages to the pan with the potatoes and peppers. Stir and serve.
Serves 4
Cook's Notes: If you double or triple this recipe you will need to increase the cooking time, especially if the sausages or veggies are piled up in the pan, or are not all laying flat.
Click on any of the images below to see what I've pinned to Pinterest recently!.  If you like to see the recipes and cooking tips that I discover and pin, I'd love to have you follow me on Pinterest!

Visit Crystal@makedinnereasy's profile on Pinterest.
Thanks for stopping by! 
If you enjoy cooking or are looking for new recipes to try,
these are ways to see more yummy ideas: 
Each week (usually on Mondays) I send out an  e- Newsletter to over 11,000 people with a link to the free dinner menus and printable grocery list that I've created for the week.  You can Sign Up for the Newsletter (it's free) to be added to my next mailing.
I also share all kinds of cooking tips and recipes on
Facebook . Twitter . Pinterest , and Instagram .  
I'd love to have you follow along!

Each page on this site has a comment box, so if you want to share how a recipe turned out or something you added to make it even better, feel free to comment below!  

Crystal