Home Page

>
Appetizer Recipes
> Marinated Pork Roast
Recipe Background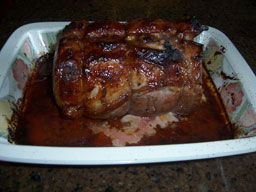 Mindy K. gave me this easy. moist, and delicious recipe for Marinated Pork Roast. It calls for a red wine marinade that also doubles as a serving sauce. This is a great Sunday dinner recipe and leftovers could easily be reheated with some BBQ sauce to make BBQ Pork Sandwiches
Marinated Pork Roast with Red Wine Sauce
Marinade:
1 1/2 cups red wine
2/3 cup brown sugar
1/2 cup white vinegar
1/2 cup ketchup
1/2 cup water
1/4 cup canola or light olive oil
3 Tablespoons soy sauce
4 cloves garlic, minced
1/2 teaspoon freshly ground black pepper

1 (4-5 pound) boneless pork loin roast
4 teaspoons cornstarch

Combine marinade ingredients in a gallon zip style plastic bag. Place pork roast inside the bag with the marinade. Seal bag and set the bag in a rimmed pan (in case it leaks!) and marinate the roast in the refrigerator for 6-8 hours or overnight, turning occasionally.
| | |
| --- | --- |
| About 2 1/2 hours before you want to serve, Preheat the oven to 350'F. Remove the roast from the marinade and place it on the bottom (no rack is needed) of a baking pan (I used a 12"x9"x2" pan). Measure out 2 1/2 cups of the marinade liquid from the bag and refrigerate. Any remaining marinade can be poured over the meat. Roast the meat, uncovered, at 350'F for 2-2.5 hours or until it reaches an internal temperature of 160'F. This comes out to about 20-30 minutes per pound. It is very helpful to use a meat thermometer so that the roast is not overcooked. | |
About 30 minutes before the meat is done, prepare the red wine sauce. remove the reserved marinade liquid from the refrigerator. Mix the cornstarch with about 3 Tablespoons of water until it is dissolved. Stir this into the cold marinade liquid. Transfer this mixture into a small saucepan. Bring to a boil, stirring constantly. Then reduce and simmer for at least 15 minutes.
Serve the roast, sliced with red wine sauce. Serves 10-12
Click on any of the images below to see what I've pinned to Pinterest recently!.  If you like to see the recipes and cooking tips that I discover and pin, I'd love to have you follow me on Pinterest!

Visit Crystal@makedinnereasy's profile on Pinterest.
Thanks for stopping by! 
If you enjoy cooking or are looking for new recipes to try,
these are ways to see more yummy ideas: 
I also share all kinds of cooking tips and recipes on
Facebook . Twitter . Pinterest . and Instagram .
I'd love to have you follow along!

Each page on this site has a comment box, so if you want to share how a recipe turned out or something you added to make it even better, feel free to comment below!