Home Page

>
Pork Recipes
> Ham and Cheese
Recipe Background
My mother-in-law was known for making these Hot Ham and Cheese Sandwiches. She made them whenever her church was having a rummage sale and she needed to help feed the volunteers. This is a perfect make ahead recipe and I often make these whenever there is a great sale on deli ham. Not only can they be made ahead, but they can also be frozen. I've made these when I've had company staying for the weekend at our house. I've made them when we were moving into a new house I knew I wouldn't have the time, energy or materials to make a meal. They also travel well. I made them to help feed family who were helping an elderly Aunt move into a new apartment. These sandwiches aren't fancy, but they offer a compact and easy meal. My mother-in-law added a lot more Worcestershire than I've included in this recipe, but I've found that kids prefer them with the amount that I've specified.
Grandma Jo's
Hot Ham and Cheese Sandwiches
6 Tablespoons salted butter, softened
2 teaspoons finely diced onions
1 teaspoon poppy seeds
1/2 teaspoon dry mustard
2 teaspoons Worcestershire sauce (or more if desired)
8 hamburger buns or kaiser rolls
1 pound thinly sliced, or shaved ham (I use shaved)
8 slices Swiss or Munster cheese (a little over .5#)
8 pieces of foil, each about 16" long

In a small mixing bowl, combine the softened butter, onions, poppy seeds, dry mustard and Worcestershire sauce. I find it faster to use an assembly line method to put these sandwiches together. To do so, line up the foil, side by side, on a counter. On each piece of foil, place an opened hamburger bun. Spread a generous 1/2 teaspoon of the butter mixture on the inside of both the top and bottom of each bun. Place approximately 1/8 of the ham on the bottom of each bun. Top with a slice of cheese and the top portion of the bun. Wrap the foil around each sandwich.
Bake at 350°F for 20 minutes. When baking you can place the foil packets directly on the oven rack. You can refrigerate or freeze these foil wrapped sandwiches after placing them in a zip style bag.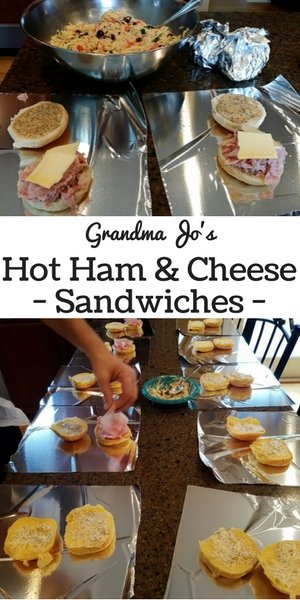 Click on any of the images below to see what I've pinned to Pinterest recently!.  If you like to see the recipes and cooking tips that I discover and pin, I'd love to have you follow me on Pinterest!

Visit Crystal@makedinnereasy's profile on Pinterest.
Thanks for stopping by! 
If you enjoy cooking or are looking for new recipes to try,
these are ways to see more yummy ideas: 
I also share all kinds of cooking tips and recipes on
Facebook . Twitter . Pinterest . and Instagram .
I'd love to have you follow along!

Each page on this site has a comment box, so if you want to share how a recipe turned out or something you added to make it even better, feel free to comment below!