Easy Dinner Recipes Blog
Making dinner every night can be hard especially if you don't know what to make or have all the ingredients in the house. I'm a Mom of 4 kids and each week I share Weekly Dinner Ideas & a Printable Grocery Shopping list. No need to think about what to make for dinner, I'll do the planning for you!
This blog will keep you up to date on new recipes, product reviews, and cooking tips that I add to MakeDinnerEasy.com as well as tips to get dinner on the table with ease. Click on the orange button in the bottom left hand corner to subscribe to RSS feed for this blog, so you don't miss a thing!.
If you are social, I post cooking tips, fun photos, and great resources on Facebook, Twitter, Pinterest and Instagram. Just click on the links to the right, I'd love to have you follow me!
An old world Chicken Paprikash recipe for #SundaySupper with a modern twist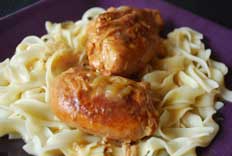 My grandparents emigrated from Hungary and I learned how to make Chicken Paprikash from my mother. Being a busy mom of 4 kids I don't always have the time to make this dish the way my mom taught me but have given it a modern update with the use of a slow cooker. The result is the same taste, the same flavor and a recipe that fits into my busy lifestyle. Today I'm celebrating my family heritage with some wonderful food bloggers who have also shared their special family recipes. If you click on the permalink and look in the right column of this recipe you will see some amazing recipes from other food bloggers who are sharing favorite family recipes for #SundaySupper!
Continue reading "An old world Chicken Paprikash recipe for #SundaySupper with a modern twist"
Privacy Policy & Affiliate Partnerships
© 2008-2013 MakeDinnerEasy.com All Rights Reserved.