Home Page

>
Salad Recipes
> Chicken Club Salad
Chicken Club Salad
Salad Ingredients
2 cups diced, cooked chicken (left over, rotisserie or cook your own)
6 cups chopped romaine or baby spinach leaves
1 cup chopped fresh tomatoes
4-5 slices cooked and crumbled bacon
1 cup seasoned croutons

Hot bacon dressing
4-5 slices bacon, diced
1/2 medium onion, diced
1/2 cup extra virgin, light olive oil
1 teaspoon cornstarch
1/4 cup wine vinegar
2 Tablespoons granulated sugar
salt and pepper to taste (approximately 1/4 teaspoons each)

Combine salad ingredients in a large bowl and set aside.
To make dressing, cook bacon until crisp. Remove from the pan using a slotted spoon and set aside. Drain all but 1 teaspoon of the bacon fat from the pan. Add the diced onions to the remaining 1 teaspoon of bacon fat and sauté until tender. Combine remaining dressing ingredients in a small measuring cup, mixing well. Add this mixture to the pan that contains the sautéed onion. Cook over medium low heat, stirring constantly, until thickened. Remove from heat, add bacon that had been cooked and previously set aside. Pour desired amount of dressing over salad, toss and serve.
Serves, 4-5 as a main course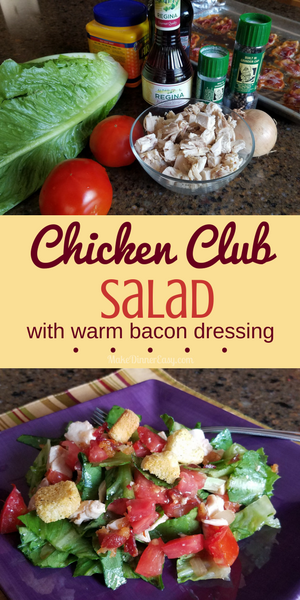 Click on any of the images below to see what I've pinned to Pinterest recently!.  If you like to see the recipes and cooking tips that I discover and pin, I'd love to have you follow me on Pinterest!

Visit Crystal@makedinnereasy's profile on Pinterest.
Thanks for stopping by! 
If you enjoy cooking or are looking for new recipes to try,
these are ways to see more yummy ideas: 
I also share all kinds of cooking tips and recipes on
Facebook . Twitter . Pinterest . and Instagram .
I'd love to have you follow along!

Each page on this site has a comment box, so if you want to share how a recipe turned out or something you added to make it even better, feel free to comment below!