Home Page

>
Pork Recipes
> Italian Sausage Skillet
Italian Sausage Skillet

My good friend Sue D.of Graphic Visions is a mom and successful business owner who loves easy and delicious meals. She shared this recipe for Italian Sausage Skillet; I tried it and my family loved it as well.
Italian Sausage Skillet Recipe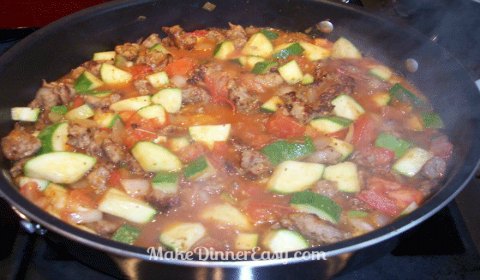 Preparation and Cooking Time: about 45 minutes, start to finish
1 pound italian sausage (either hot or mild)
1 large chopped onion (about 1.5 cups)
5 cloves minced garlic
1/2 cup chopped green pepper
5-6 chopped tomatoes
1.5 pounds small zucchini, sliced thinly (about 2-3 eight inch zucchini)
1 Tablespoon oregano
1/4 teaspoon each salt and ground black pepper
1/2 cup grated Parmesan cheese
1 (6 ounce) package provolone cheese (I used about 4 slices)

Remove sausage from the casing if necessary and cook fully until browned in a large skillet. Use two spoons to break up the sausage into small pieces as it cooks. Remove from heat, drain off any grease, and blot with paper towels. Return to medium heat and add chopped onion, garlic, green pepper, tomatoes, zucchini, and spices. Simmer until vegetable are as tender as you desire. Stir in Parmesan cheese. Place provolone cheese on top and allow to melt.
Can be served alone with garlic bread or served over pasta.
Serves 6
Click on any of the images below to see what I've pinned to Pinterest recently!.  If you like to see the recipes and cooking tips that I discover and pin, I'd love to have you follow me on Pinterest!

Visit Crystal@makedinnereasy's profile on Pinterest.
Thanks for stopping by! 
If you enjoy cooking or are looking for new recipes to try,
these are ways to see more yummy ideas: 
I also share all kinds of cooking tips and recipes on
Facebook . Twitter . Pinterest . and Instagram .
I'd love to have you follow along!

Each page on this site has a comment box, so if you want to share how a recipe turned out or something you added to make it even better, feel free to comment below!