A Quick Chicken Dinner

I'm a member of the Collective Bias® Social Fabric® Community.I participated in this shop because I'm always trying to create new ideas for dinner.  I was compensated for this shop as part of a social shopper insight study for Collective Bias and their client, but all of the opinions are my own.

As a busy Mom, making a quick chicken dinner that my kids will eat scores a home-run in my book!  Even better if it includes some type of vegetable.  I  recently came up with a way to incorporate crispy chicken which my kids like to eat, some veggies which I like them to eat and some dipping sauces for chicken to make it fun.
This recipe for Crispy Chicken Lettuce Wraps is great for kids of all ages.  Even my teens enjoyed making their own and picking which dipping sauce to try!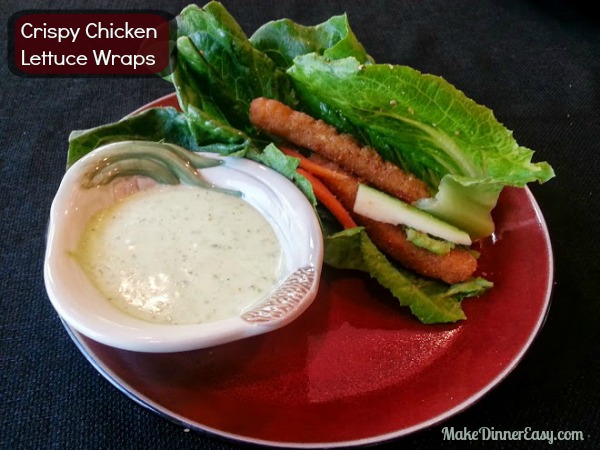 I have four teenagers, all involved in sports and with busy schedules.  That makes me busy too!  I love having the base of a meal all ready in the freezer so that I can just add a few things and call it dinner.  I purchased the Tyson Chicken Fries used in this recipe at Sam's Club and was surprised to find that I could get the rest of the ingredients I needed there as well.  I took a bunch of pictures on my shopping trip, if you'd like to check them out! As you can see from the photo below, I found everything I needed in one stop.

Normally I shop with a list.  In this case I went to pick up the Chicken Fries and was inspired after seeing all sorts of veggies to incorporate in the wrap.  Normally I make homemade sauces but I thought it would be fun to come up with some simple ingredient combinations that even my teenagers could make.  Using a base of ranch dressing, the possibilities are endless!

Crispy Chicken Lettuce Wraps with a duo of Dipping Sauces

Ingredients
Tyson

®

Homestyle Chicken Fries
Romaine or Butter Lettuce Leaves
Assorted diced or julienned vegetables such as carrots, zucchini, or cucumber
Dipping Sauces, see recipe below
Instructions
Bake the Chicken Fries as directed.  Meanwhile, wash and blot dry lettuce leaves, cut up veggies, and make the dipping sauces.
When the Chicken fries are hot and crispy, assemble the lettuce wraps by placing 2-3 chicken fries in the middle of the lettuce, adding any desired veggies or sauce and wrapping the lettuce around the filling. See the video below for a demonstration of how to assemble the wraps.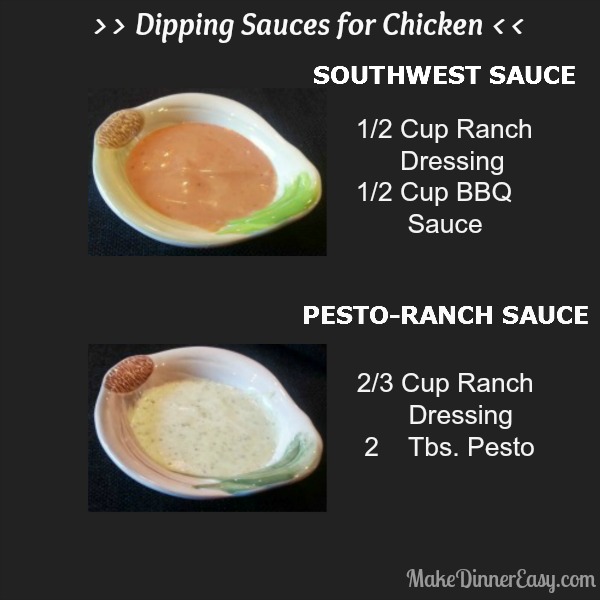 You don't have to stop at the Dipping Sauces for Chicken that I used.  The possibilities are endless.  I've listed a few more ideas in the right column.
If you've never made a lettuce wrap, it's a lot like making a wrap with a tortilla.  Here is a quick demo to show you how:

It's a Wrap!  Demonstrating Lettuce Wraps

Now, if for some reason your kids just won't eat their veggies... you could just serve the Chicken Fries with the sauce and call it a night!
If you like this recipe, you might like these Quick Chicken Dinner recipes as well.
I would also suggest following Club Tyson on Twitter  and Tyson on Facebook for more easy meal ideas.  In addition, I heard that they will be giving away tickets to Six Flags, so if that is in your summer plans check out their page!

If you have any other suggestions for dipping sauces or toppings for this, please add them in the comments below!

Click on any of the images below to see what I've pinned to Pinterest recently!.  If you like to see the recipes and cooking tips that I discover and pin, I'd love to have you follow me on Pinterest!

Visit Crystal@makedinnereasy's profile on Pinterest.
Thanks for stopping by! 
If you enjoy cooking or are looking for new recipes to try,
these are ways to see more yummy ideas: 
I also share all kinds of cooking tips and recipes on
Facebook . Twitter . Pinterest . and Instagram .
I'd love to have you follow along!

Each page on this site has a comment box, so if you want to share how a recipe turned out or something you added to make it even better, feel free to comment below!