Home Page

>
Chicken Recipes
> Rotisserie Chicken Salad
Rotisserie Chicken Salad

The preparation of this rotisserie chicken salad uses a little trick that my husband's Grandmother taught me. When making any type of salad that called for miracle whip, mayonnaise or salad dressing she liked to thin the salad dressing with milk so it wasn't so thick and clumpy. In addition to tasting better, I like that thinning the dressing also reduces the fat and calories. At first when you add the milk to the salad dressing it may seem too watery, just keep stirring and it should be the right consistency after it's completely blended.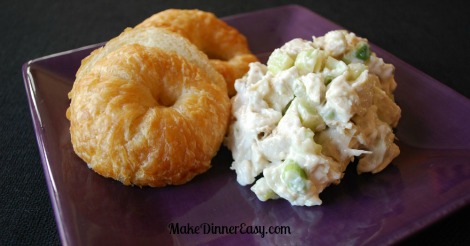 Rotisserie Chicken Salad Recipe

1 (3#) rotisserie chicken, diced with skin and bones removed (about 5-6 cups diced chicken)
3 stalks of celery, diced (about 1 1/4 cup)
1/4 large diced onion (about 1/2 cup)
1-2 Tablespoons, chopped flat leaf fresh Italian parsley
3/4 cup light miracle whip (or light mayonnaise)
1/4 cup milk
black pepper to taste

Place the diced chicken, celery, onion, and parsley in a large mixing bowl. In a 2 cup glass measuring cup or medium sized bowl, combine the miracle whip and milk. You will need to stir the miracle whip and milk for 1-2 minutes to make sure it's completely combined. Add this mixture to the chicken and other ingredients in the large bowl. Add black pepper and stir. If you are using rotisserie chicken you probably won't need to add salt. If you use this recipe and cook your own chicken, you may want to add salt to taste.
Serve over lettuce or on a mini croissant or small roll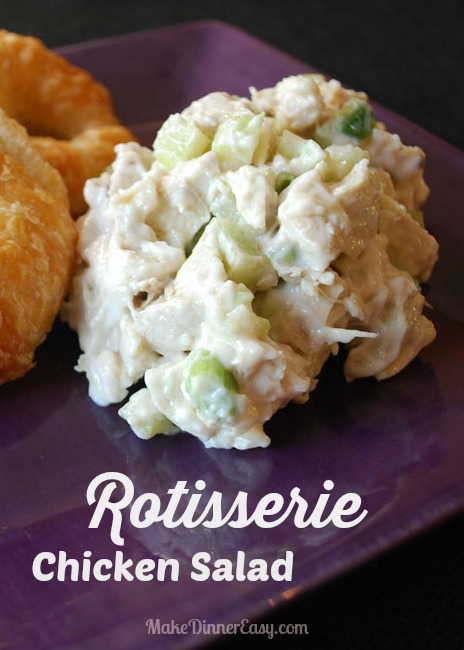 You can also add any of the following ingredients to jazz up this recipe:
halved grapes
halved and pitted black cherries
chopped nuts such as cashews, walnuts or almonds
chopped apples
Click on any of the images below to see what I've pinned to Pinterest recently!.  If you like to see the recipes and cooking tips that I discover and pin, I'd love to have you follow me on Pinterest!

Visit Crystal@makedinnereasy's profile on Pinterest.
Thanks for stopping by! 
If you enjoy cooking or are looking for new recipes to try,
these are ways to see more yummy ideas: 
I also share all kinds of cooking tips and recipes on
Facebook . Twitter . Pinterest . and Instagram .
I'd love to have you follow along!

Each page on this site has a comment box, so if you want to share how a recipe turned out or something you added to make it even better, feel free to comment below!