Home Page

>
Cooking 101
> Rotisserie Chicken Recipes
Rotisserie Chicken Recipes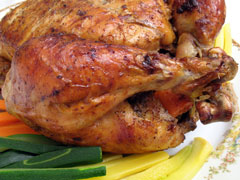 You can make dinner really easy with these rotisserie chicken recipes that call for a pre-cooked chicken from the grocery store.
I'm all for saving time, and that is why I love recipes that call for cooked chicken. You could cook the chicken yourself, but uncooked chicken often costs about the same amount as the pre-cooked variety. If you are on a sodium restricted diet however, you may want to check if the precooked chickens have any salt added. You may find that the rotisserie chickens at Warehouse Clubs such as Sam's and Costco are larger birds, often yielding up to 4 cups of diced chicken meat. The grocery store varieties near where I live are much smaller, often yielding about 2 cups of meat. 
I find that it is easiest to remove the chicken skin, take the meat off the bones and dice the meat soon after I get home from the store, while the chicken is still warm. If you don't need to use the diced meat right away, store it in in a covered bowl in the refrigerator for a day or so.
The following are recipes that call for cooked chicken. They can also be found on my Chicken Recipes page, but have been grouped here for convenience.
Baked Recipes Using Cooked Chicken
Chicken and Dumpling Casserole
Chicken and Wild Rice Casserole
Chicken and Broccoli Strudel
Hot Chick Melts
Chicken Tetrazzini
Chicken and Stuffing Casserole
Chicken Enchiladas
Chicken Pot Pie Recipe

Stove Top Recipes Using Cooked Chicken
White Chicken Chili
Lettuce Wraps with Peanut Sauce
Artichoke Chicken Linguine
Southwest Chicken Patties

Other Recipes Using Cooked Chicken
Rice Cooker Arroz Con Pollo
Rotisserie Chicken Salad

Other Pages of Interest
How To Cook Chicken
Chicken Recipes
Chicken Thigh Recipes
Chicken Breast Recipes
Find Crystal Maleski on Google+
Privacy Policy & Affiliate Partnerships
© 2008-2014 MakeDinnerEasy.com All Rights Reserved.