Dorfler's Meat Market
Where you buy your meat and seafood can significantly impact the quality of your finished meal. For years, I have purchased meat and seafood from Dorfler's Meats in Buffalo Grove.
Although they have served the northwest suburbs of Illinois since 1978 they have a growing catering and gift shipping business. So even if you don't live in Illinois you can still enjoy their terrific meats and homemade beef jerky.
Butcher vs. Grocery Store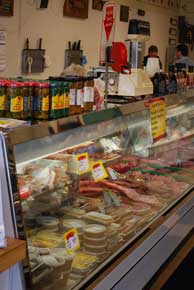 Packaged meat in a grocer's meat case can be convenient for grab and go shopping, but you may have questions about what cut to buy, need a piece of meat trimmed, or need a specific amount. That is where a good butcher comes in.
My experience with the butcher's at Dorfler's has been terrific. They have suggestions on what to buy and how to prepare various cuts of meat and seafood. Their meat tastes better because it's dry aged which produces a more tender meat. I also like that they sell locally raised meat, including meat from the Midwest.
One of the easiest dinners to make for friends or family is Dorflers Famous Skirt Steak. My kids love having these grilled skirt steaks for dinner and they were such a hit at a dinner party that we had with friends that I gave them a box of frozen marinated skirt steaks as a house warming present when they moved. I once asked the butchers if they would share their marinade recipe with me. They were glad to do so but then explained that it's not so much the marinade that makes these steaks great. They use a tumbler which helps the marinade penetrate throughout the meat, making it tender and very flavorful.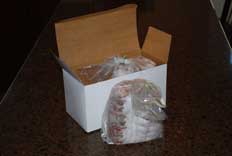 Another delicious and convenient dinner option is Dorfler's frozen pub burgers.  These come frozen, about 15 burgers to a box. Each burger is separated by waxed paper so you can just cook the number that you need. These are very similar to how I make burgers and are seasoned with onions, bbq sauce, catsup, and seasonings. You can also fine other types of burgers ready to grill including applewood bacon and cheddar burgers, Gorgonzola burgers, and their newest skirt steak burger.
Favorite Things to Buy at Dorfler's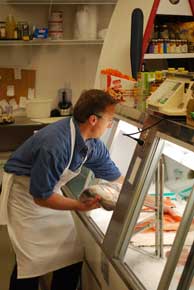 These are a few of my favorite things to buy at Dorflers, please share your favorites below as well!
marinated skirt steak
chicken dijon - brown these in a pan with a little olive oil and butter. Makes for a great entree or even a snack cut into strips
Dry Sea Scallops (ask them why buying dry scallops is preferred and then make Simple Sautéed Scallops
Smoked Whitefish Salad. You can find this in the deli counter, makes for a great appetizer served with crackers.
frozen pub burgers
beef sticks (my kids love these!) and homemade beef jerky
For parties I have ordered their cooked BBQ sliced pork or turkey. It comes pre-sliced in a large foil pan with a thinned out homemade bbq sauce on the side. I heat up the meat and sauce in a slow cooker and it makes for great sandwiches served on a kaiser roll
homemade au gratin potatoes and mac $ cheese - look in the meat case near the case register for this
I would also recommend trying their homemade soups which are in the frozen food cases. I recently learned that they make 200 pounds of their homemade chicken soup each week, it's that popular. Also a little known service they offer is knife sharpening and they even occasionally have very good used butcher knives for sale.
What Do You Like to Buy At Dorfler's
Please list your favorites from Dorfler's. Feel free to add a recipe or special preparation method as well.
What Other Visitors Have Recommended
Click below to see contributions from other visitors to this page...

Polish Sausage Not rated yet
Every Christmas, my dad and I head to Dorfler's to get several pounds of their pork shoulder to make our old family recipe for Polish Sausage. The butchers …
Homemade Salads Not rated yet
Ask for Christa at the Dorfler's deli counter. They have several homemade salads that are great for a picnic lunch on a summer day. Be sure to try their …
Disclaimer: I have accepted Dorfler's as a sponsor of this website because I love their meat and seafood as well as their customer service. I do not earn any profit from sales from visitors of this site but do accept payment for advertising space from Dorfler's.
Click on any of the images below to see what I've pinned to Pinterest recently!.  If you like to see the recipes and cooking tips that I discover and pin, I'd love to have you follow me on Pinterest!

Visit Crystal@makedinnereasy's profile on Pinterest.
Thanks for stopping by! 
If you enjoy cooking or are looking for new recipes to try,
these are ways to see more yummy ideas: 
I also share all kinds of cooking tips and recipes on
Facebook . Twitter . Pinterest . and Instagram .
I'd love to have you follow along!

Each page on this site has a comment box, so if you want to share how a recipe turned out or something you added to make it even better, feel free to comment below!