Cooking With Blueberries
Recipe Inspirations from Mariano's

I love to create new recipes and share great places to shop.  I'm excited to be part of the Collective Bias® Social Fabric® Community.  Recently I was selected to be part of a social shopper insights study for Collective Bias®  and discovered some great things about  Mariano's #cbias and#SocialFabric which inspired me to create some new recipes using blueberries including this Stuffed French Toast Recipe! Although this is a sponsored post, all of the opinions in this feature are my own.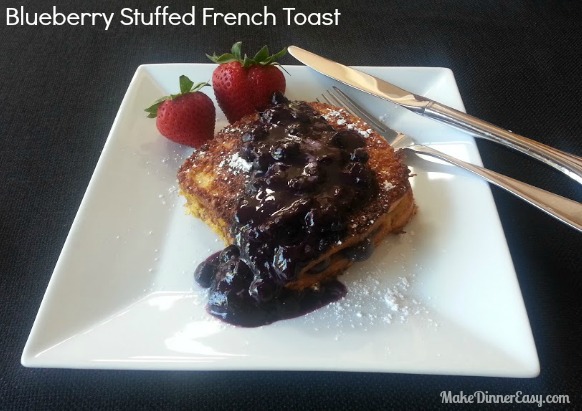 Getting Inspired to Cook
I'm often asked where I get my recipes or how I come up with new ones.  Often I see an ingredient on sale or see a beautiful display at the store and think, I really need to make something with that.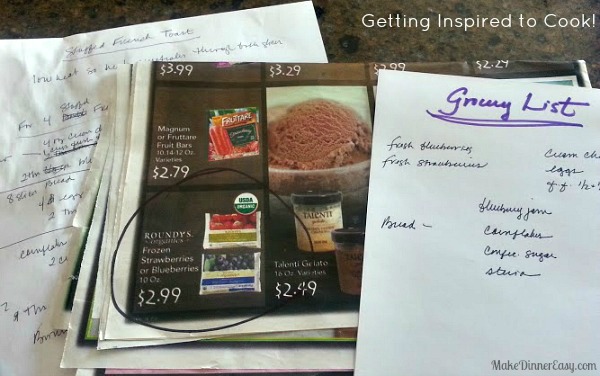 In this case, I saw blueberries on sale, and thought with the Memorial Day holiday coming it up, it might be fun to create a Red White and Blueberry breakfast!  Off I go to Mariano's for additional inspiration!


Shopping at Chicago area Mariano's is a great experience.  There is a nice combination of high quality fruits and veggies (and I'm picky!) and good values.  I was very happy with the freshness of the produce I bought and items were displayed in a way that inspires me to incorporate healthy ingredients in my cooking.  I could sample foods and even see and smell baked goods being made.  If you haven't been to this store, I would suggest getting a cup of coffee (see why you want to get a Mariano's Rewards Card on the right) and walk the aisles.  You will find a combination of high end ingredients, house brand staples which are well priced, and they even have an aisle of warehouse sized value items.
Since the frozen organic blueberries and fresh blueberries were priced really well,  I decided to create a recipe for a Blueberry Stuffed French Toast using blueberry jam to really kick up the blueberry flavor.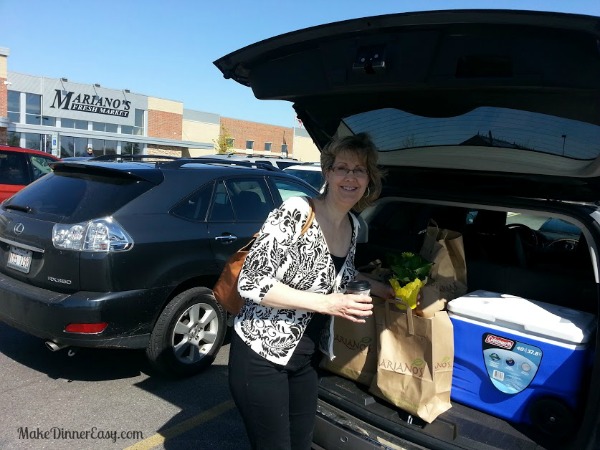 I've got all the ingredients I need to cook!  Since I planned to buy frozen blueberries I brought along a cooler to keep them frozen on the way home,.  I've got my coffee and a pretty flower for my kitchen counter so  it's time to go home, unpack, and cook!  If you want to see photos (and captions!) of my shopping trip, check out the Google+ Album I created!

Blueberry-Stuffed
French Toast Recipe

Inspired by #MyMarianos and #cbias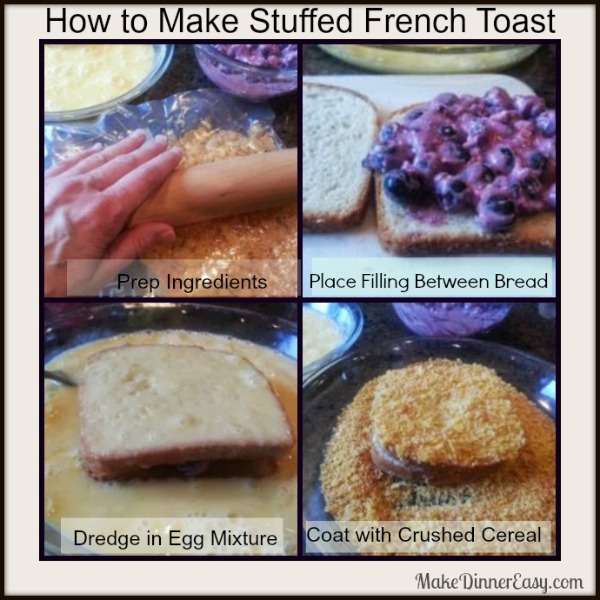 Ingredients
Blueberry Filling:
4 ounces of cream cheese (1/2 of an 8 ounce block)
3 Tablespoons blueberry jam
1 (6 ounce) container fresh blueberries
Egg Mixture:
4 eggs
2 Tablespoons fat free half and half or milk
Crumb Topping:
3 cups crushed cornflake cereal
Other:
6 slices of bread (challah or Peppridge Farm White Bread is preferred)
1-3 Tablespoons of butter

strawberries and powdered sugar to garnish
optional blueberry sauce - recipe is in the right column or syrup if desired

Directions
Place cream cheese in a medium sized microwave safe bowl and microwave for 15 seconds to soften.  Add jam and stir well. Fold in fresh blueberries and set aside
In a shallow pie plate or bowl, whisk together the eggs and milk, set this aside.
Pour the cornflakes in a zip style bag and use a rolling pin or your hands to crush the cereal into a fine meal.  Pour this into another shallow pie plate or bowl and set aside.
Assemble 4 "sandwiches" by placing about 1/3 cup of the blueberry filling between two slices of bread
Dredge each "sandwich" in the egg mixture, coating both sides well.
Coat both sides of each sandwich with the crumb mixture
Melt 1-2 Tablespoons of butter in a large skillet.  Place 1-2 of the stuffed french toast sandwiches in the skillet and cook over medium-low heat for 1-2 minutes per side until golden brown. Transfer to a warm platter and cook the other sandwiches.

Garnish with strawberries and powdered sugar and serve with homemade blueberry sauce or syrup if desired.
Yield:  4 servings - and this recipe doubles well

Prep Time:  10 minutes
Cooking Time: less than 10 minutes
If you are looking for more breakfast recipes, Mariano's has quite a few under their recipe section (I rather liked their Muffin Base Recipe as you could change it up as you want!)  If you're a foodie like I am or just like to shop at a nice store, I think you will enjoy following Mariano's on Twitter and Mariano's on Facebook!
I hope you enjoy this recipe and would love to hear how you make Stuffed French Toast or how this recipe worked for you in the comment section below!
Click on any of the images below to see what I've pinned to Pinterest recently!.  If you like to see the recipes and cooking tips that I discover and pin, I'd love to have you follow me on Pinterest!

Visit Crystal@makedinnereasy's profile on Pinterest.
Thanks for stopping by! 
If you enjoy cooking or are looking for new recipes to try,
these are ways to see more yummy ideas: 
I also share all kinds of cooking tips and recipes on
Facebook . Twitter . Pinterest . and Instagram .
I'd love to have you follow along!

Each page on this site has a comment box, so if you want to share how a recipe turned out or something you added to make it even better, feel free to comment below!