What To Buy At The Grocery Store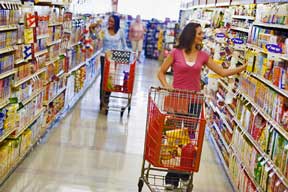 Do you ever wonder what to buy at the grocery store? Although I have my personal favorites, I like to peek in other people's grocery carts to see what others like to buy. 





I have set up a number of pages to share your favorite finds at specific grocery stores, but I can't list every store! So, this is a general list of reader's recommendations that could be found at any number of different grocery stores.
Feel free to add what you like to buy, or rate what others have submitted. If you would care to, add the name of the store you buy this product at and how you cook with it or why you like it so much.
Do You Have a Favorite Product or Ingredient
You Love to Buy or Cook with?
What's in your grocery cart? This doesn't have to be a store specific item, just something you like to buy that could be found at any store.
What Other Visitors Have Recommended
Click below to see contributions from other visitors to this page...

GARLIC NAAN BREAD Not rated yet
THIS INDIAN BREAD IS SOOOOO YUMMY! WE USE IT TO SOP UP CURRY SAUCE OR USE AS SANDWICH BREAD TO CURRY CHICKEN SALAD. IT HAS A SOFT TEXTURE LIKE A THICK …
Click on any of the images below to see what I've pinned to Pinterest recently!.  If you like to see the recipes and cooking tips that I discover and pin, I'd love to have you follow me on Pinterest!

Visit Crystal@makedinnereasy's profile on Pinterest.
Thanks for stopping by! 
If you enjoy cooking or are looking for new recipes to try,
these are ways to see more yummy ideas: 
I also share all kinds of cooking tips and recipes on
Facebook . Twitter . Pinterest . and Instagram .
I'd love to have you follow along!

Each page on this site has a comment box, so if you want to share how a recipe turned out or something you added to make it even better, feel free to comment below!