Home Page

>
Soups and Stews
> Vegetable Soup
Vegetable Soup

Thanks go to my old friend Becky F. from City Kitty Climber who gave me this terrific recipe for Vegetable Soup. She likes to make a big pot of this and dip out of it for lunch or a quick meal all week long. I have made this soup several times and really enjoy it with the Chicken Broth and escarole options. If you do want to use spinach, you may want to stir the uncooked spinach into each bowl as you serve it. Otherwise the spinach breaks down rather quickly. Thanks for this healthy soup recipe Becky!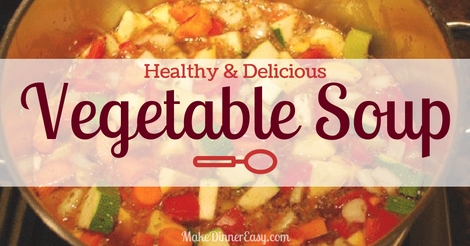 4 cups freshly diced tomatoes
8 cups (64 ounces) vegetable broth or chicken broth
1 large chopped onion
2 gloves minced garlic
3 chopped carrots (these don't need to be peeled)
3 chopped celery stalks
1 8" zucchini, skin left on, chopped into chunks
1 8" yellow squash, skin left on (I like to remove the seeds), chopped into chunks
sea salt, to taste (I use 1 teaspoon)
crushed red pepper or black pepper to taste
2 teaspoons dried oregano
1 heaping Tablespoon dried basil
1 1/4 cup chopped fresh baby spinach leaves or chopped escarole

Toss all ingredients (except spinach/escarole) into a large stockpot and cover until it starts to boil. Turn heat down and let simmer on stove top for 1-2 hours. If you are using escarole, add this during the last 30 minutes of simmering. If you are using spinach, add just prior to serving or add to each bowl and pour soup over spinach leaves. Serve with a sprinkle of shredded Parmesan cheese and your favorite bread or crackers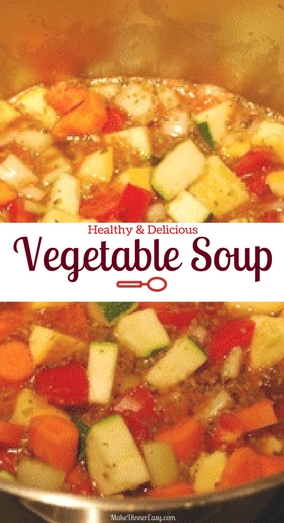 Click on any of the images below to see what I've pinned to Pinterest recently!.  If you like to see the recipes and cooking tips that I discover and pin, I'd love to have you follow me on Pinterest!

Visit Crystal@makedinnereasy's profile on Pinterest.
Thanks for stopping by! 
If you enjoy cooking or are looking for new recipes to try,
these are ways to see more yummy ideas: 
I also share all kinds of cooking tips and recipes on
Facebook . Twitter . Pinterest . and Instagram .
I'd love to have you follow along!

Each page on this site has a comment box, so if you want to share how a recipe turned out or something you added to make it even better, feel free to comment below!