Home Page

>
Appetizer Recipes
> Tri Pepper Salad
Tri-Pepper Salad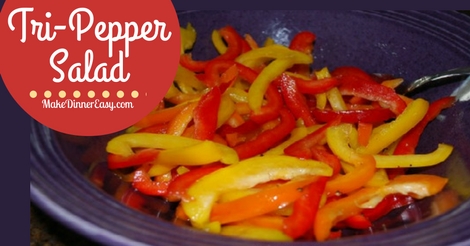 I'm excited to add this Tri Pepper Salad to my collection of easy vegetable recipes. A friend served this side dish at a dinner party recently. It's colorful, delicious, and easy to make as well. Thanks Sheryl for the recipe!
Tri Pepper Salad Recipe

2 med green peppers, sliced
1 med yellow pepper, sliced
1 med sweet red pepper, sliced
1 med red onion, sliced
1 tsp grated lemon peel
1/2 cup red wine vinegar
4 1/2 tsp oil
1 tbsp minced fresh basil
1 tbsp sugar
1/4 tsp salt
1/8 tsp black pepper

In a salad bowl, combine the peppers, onion and lemon peel. Combine vinegar and oil, pour over veggies and toss to coat. Cover and refrigerate overnight. Just before serving, add the basil, sugar, salt and black pepper. Mix well
Serves: 6-8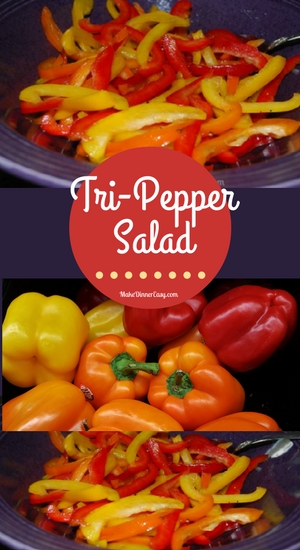 Click on any of the images below to see what I've pinned to Pinterest recently!.  If you like to see the recipes and cooking tips that I discover and pin, I'd love to have you follow me on Pinterest!

Visit Crystal@makedinnereasy's profile on Pinterest.
Thanks for stopping by! 
If you enjoy cooking or are looking for new recipes to try,
these are ways to see more yummy ideas: 
I also share all kinds of cooking tips and recipes on
Facebook . Twitter . Pinterest . and Instagram .
I'd love to have you follow along!

Each page on this site has a comment box, so if you want to share how a recipe turned out or something you added to make it even better, feel free to comment below!